Did you really think that I was not going to work in some abdominal exercises with some backside exercises? I know, I am evil but really, you should always have your abs engaged in most exercises anyway.
Don't moan too much as you will thank me this summer. This weeks exercise combines the plank with a leg lift so start by focusing on your plank form (plenty of instructions online but mainly, keep your back flat, no arching allowed).
To perform the exercise, get into the plank position. Keeping your body straight, lift 1 leg without losing your balance, hold for 10 seconds and then lower that leg and repeat with the opposite leg. Do 3 sets for each leg and work towards 5 or more sets. This slideshow is a great demonstration on how to perform this exercise.
Are you on Pinterest? Follow my boards and be inspired.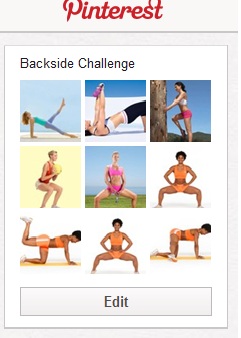 Have you signed up for the Backside Challenge yet? Well, sign up straight away!
*I am not a doctor, trainer or miss know-it-all so consult someone who is. Photo courtesy of exercisemoves.me