I almost had my nose broken on Sunday. That statement in itself is not unique but when you add 'by a roll of duct tape' to the statement, it becomes a bit more interesting.
Our daughter has been waiting for us to repaint and makeover her bedroom for two months so we woke up yesterday deciding today was the day and by 9 am, her room was empty and waiting. While my husband and daughter were off buying the paint, I decided to surprise them by having the room all taped up and ready to be painted when they got home.
Not knowing that scissors and large roll of duct tape had been placed on the top of the ladder, I picked it up to move it into the desired location. That is when the wind was knocked out of me: The scissors fell to land with a large thud on my chest followed by the huge slug on my nose by a roll of duct tape. I fell to the floor in pain, quickly assessed that the scissors did not enter my chest wall but felt as if my nose was broken.
Following an extended session of crying and hugs from our son, I accepted that my nose was not broken however, my glasses had been 'altered'. I should add that once my son saw the I was alright he stated: 'Mom, don't say a bad word because you won't get a Christmas present from Santa'.  That made me laugh.
After an early visit to the eye doctors this morning, my glasses are no longer eschew. I promise to share photos of the room once completed.
Remember the last time I made baked potato chip nachos? oh, you should. This time, we went Buffalo!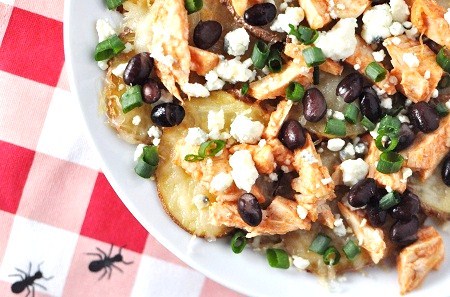 Baked Potato Chip Buffalo Chicken Nachos (serves 4)
Ingredients:
2 large russet potatoes, sliced 1/8 inch thin
1-2 teaspoons olive oil or use olive oil spray
1-2 ounces Monterey jack cheese, shredded
1 cup or more of leftover cooked chicken breast, shredded/chopped
1/3 cup Frank's original hot sauce
1-2 ounces Gorgonzola cheese, crumbled
1/4 black beans, drained and rinsed
2 scallions, chopped
Directions:
1. Preheat the oven to 350 degrees. Wash and dry the potatoes.
2. Using a mandolin set to a 1/8 inch, slice the potatoes and place on a clean dish towel or paper towels.
3. Toss the potatoes with the olive oil and lay the slices on a cooking rack placed in a baking sheet (allows for better baking). Bake the potatoes about 20 minutes or until starting to brown a bit. Meanwhile, chop up the bacon and set aside.
4. Shred the jack cheese and set aside. Combine the chicken and hot sauce, mix well and set aside.
4. Once the potatoes are cooked, scatter the jack cheese, Gorgonzola cheese and chicken over the chicken. Bake another 3-5 minutes, just to melt the cheese and warm the chicken. Remove from the oven, top with black beans and scallions.