Seeing how I was little nervous about my throat yesterday (I snapped out of just in time for Monday), I was feeling the need for some comfort food.
I decided to take a cult classic, the Grilled Cheese and incorporate some vegetables. This was super simple as I used a premade organic pico de gallo and avocado. I used some Gouda cheese and my soul was properly comforted.
Yes, the kids did give it a second look but the melted cheese was too hard to resist.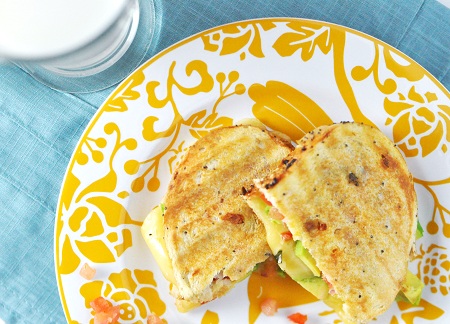 Grilled Cheese Sandwich with Gouda, Pico de Gallo & Avocado (Yield = 1 sandwich)
Ingredients:
2 slices whole grain bread
A few slices of Gouda or other good melting cheese
1-2 tablespoon of pico de gallo or salsa
2 slices of avocado
Directions:
1. Heat an indoor grill or pan over medium heat.
2. Spray one side of each slice of bread with olive oil spray.
3. Lay one piece of bread flat and top with the cheese, pico de gallo and avocado. Place the other piece of bread on top and then grill/toast in the pan until the cheese is melted. Flip once if using a pan to brown the other side.