Oh Mommy. Oh Daddy. Oh Sister!
You ever notice when someone says 'cheesecake' that eyebrows raise, mouths drool and suddenly you are everyone's best friend?
I like that. And I like that I made these a bit lower in fat and gluten free and they are so good you would love me for-evah.
Don't believe me? Make them and find out.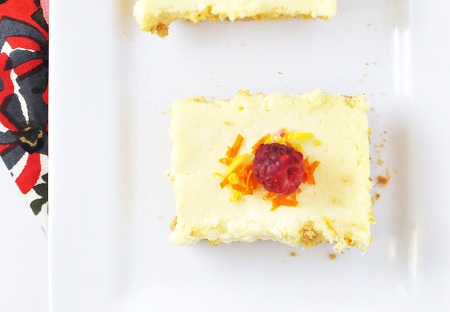 Speaking of gluten free, please join our LIVE gluten free Easter Celebration today at 1 p.m. EST!!
Citrus Cheesecake Bars Recipe (Yield 16 servings)
Ingredients:
1 1/2 cups crumbled gluten free graham or snicker doodle cookies (gluten free)
1/4 cup earth balance buttery spread, melted
1 package of cream cheese, softened
1 package reduced fat cream cheese, softened
1/2 cup sugar
1 tablespoon lemon zest, divided in half
1 tablespoon orange zest, divided in half
2 teaspoons lemon juice
2 teaspoons orange juice
1/2 teaspoon vanilla
2 organic eggs
Directions:
1. Heat the oven to 350 degrees F.
2. Prepare the cookie crumbs and then mix them with the earth balance and press into a 8 inch square pan (prepare with cooking spray if it not non-stick).
3. Beat the cream cheese, sugar, 1.5 teaspoon lemon zest, 1.5 teaspoon orange zest, lemon juice, orange juice and vanilla in a large bowl just until blended. Add the eggs, one at a time, mixing briefly after each. Pour this mixture over the graham crust.
4. Bake for about 22-25 minutes until it is just set. Remove form the oven and once completely cool, refrigerate for a minimum 3 hours. Garnish with remaining 1.5 teaspoon of each zest.