Our FreshOver journey this month was really fun because we challenged ourselves to take one of our families' favorite dishes and see what we could do to make them even more nutritious while also using fresh seasonal ingredients.
Can you guess which family favorite we 'freshed-over'? Come on, if you have been here a while, you have a good idea….Yes, Salmon Cakes. We first made a whole wheat crusted version before we moved onto a mashed potato version but wanted to freshen them up. We thought that incorporating sweet potatoes was a great idea!
Since the kids were so used to the previous recipes, we decided to make them mini. Why? Kids will try just about anything if it is miniature so consider down-sizing instead of super-sizing.
Do yourself a favor: you are going to love this recipe and want more next week, so save yourself time by making a double batch and store them in Ziploc Brand Freezer Bags with the Smart Zip Seal or the Ziploc VersaGlass Containers — the Salmon cakes will freeze beautifully and be ready to quickly re-heat for the next meal.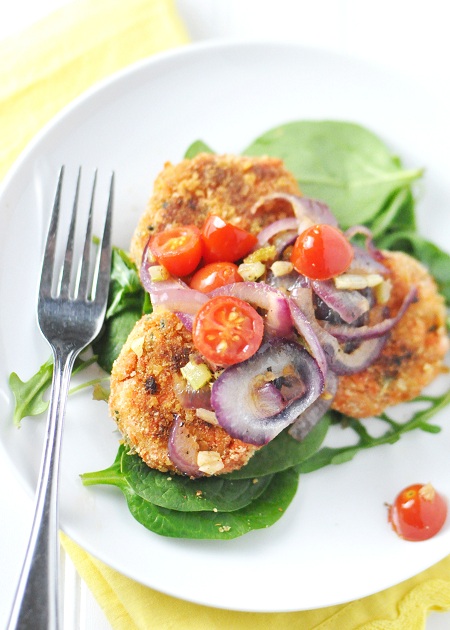 Recipe: Rachael Ray's Salmon and Sweet Potato Cakes
Recipe prepared by: Jennifer Leal, Photo taken by: Jennifer Leal
Rachael Ray's Salmon and Sweet Potato Cakes with Agrodolce Relish and Arugula (Yields 16 mini-cakes)
Ingredients:
• 1 large sweet potato, peeled and cut into small chunks
• Salt
• 12 ounces pieces salmon fillet
• 1 cup white wine
• Freshly ground black pepper
• 1 tablespoon seafood seasoning, a palmful
• 1 1/4 cups cracker crumbs
• 1 egg, lightly beaten
• 1 tablespoon finely chopped thyme leaves
• 2 scallions, finely chopped
• 3 tablespoons finely chopped fresh dill
• 2.5 tablespoons extra-virgin olive oil
• 1 small red onion, thinly sliced
• 2 small ribs celery, finely chopped
• 2 cloves garlic, chopped
• 1 pint grape or cherry tomatoes, halved or quartered
• 2 tablespoons red wine vinegar
• 4 cups arugula or baby arugula leaves
Directions:
1. Put the potatoes in a small pot, cover with water, and bring to a boil over high heat. Salt the water and cook until tender, 10 to 12 minutes. Drain, and then return the potatoes to the pot and mash.
2. Meanwhile, put the salmon fillets in a skillet with the wine and enough water to come up to the top of the fillets, but do not cover. Bring to a boil over medium heat, then reduce heat to a simmer and poach until opaque about 8 to 10 minutes. Remove the skin and transfer the salmon to a bowl.
3. Flake the fish with a fork and season with salt and pepper, to taste. Add the mashed sweet potatoes to the bowl along with the seafood seasoning, half of the cracker crumbs, the egg, thyme, scallions, and dill.  Mix to combine. The fish cake mixture needs to be just firm enough to mold into cakes. If it's too wet, add a few more crumbs.
4. Heat two skillets, side by side, 1 with 2 tablespoons extra-virgin olive oil (2 turns of the pan) over medium heat, the other with 1 tablespoon extra-virgin olive oil (a turn of the pan) over medium-high heat.
5. Form the salmon mixture into 16 mini- patties, coat in the remaining crumbs, and then add them to the first pan. Cook the fish cakes until light golden, about 2 to 3 minutes on each side. Add the red onions, celery, and garlic to the second pan and cook 3 to 4 minutes. Add the tomatoes, season with salt and pepper, to taste, and cook 2 minutes more. Stir the vinegar into the sauce and toss to coat the tomatoes.
6. Place arugula on a plate; arrange the fish cakes over the arugula and then top with the relish and dig in!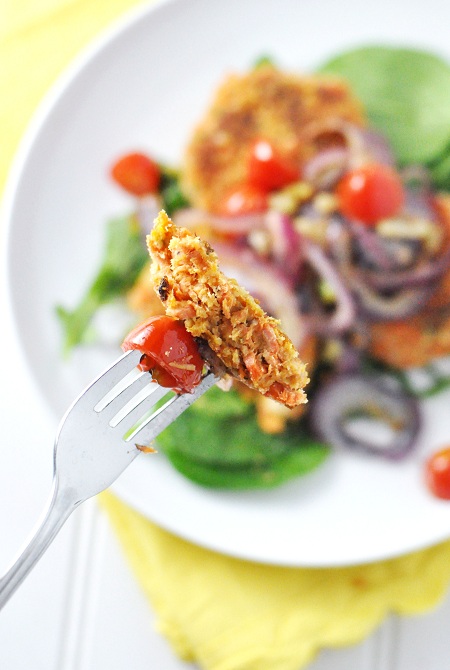 Recipe: Rachael Ray's Salmon and Sweet Potato Cakes
Recipe prepared by: Jennifer Leal, Photo taken by: Jennifer Leal
Don't worry if you are just learning about the Great American FreshOver because it is never too late to enlist. Plus, there are even coupons and giveaways to help you on your journey.
Finally, beginning March 5th, Ziploc Brand is hosting The Great American FreshOver Sweepstakes through May 2, 2012. Fans can enter on the Ziploc Brand Facebook page by "liking" the page and offering a FreshOver food idea, in the form of a recipe or tip in text. During the sweepstakes, fans will be rewarded with access to exclusive Rachael Ray videos and tips, weekly prize drawings, coupons and one lucky grand prize winner will win a trip for two to experience the ultimate culinary experience in America's food capital – New York City. Grand prize winners will stay in New York City for three nights and four days, can eat at the most sought after "fresh" restaurants and swap recipes with Rachael Ray. No purchase or payment of any kind is necessary to participate. Find out how to enter here.
How is your 'Freshover' Journey coming along?
Disclosure: I have partnered with Ziploc® Brand and am being compensated for my posts. However, my opinions on the product are my own.
Post photo: Recipe: Rachael Ray's Salmon and Sweet Potato Cakes
Recipe prepared by: Jennifer Leal, Photo taken by: Jennifer Leal