I was yelled at by a six year old this morning. This is unique as our son is usually a morning person just like his Mommy.
I blame today's outburst on Daylight Savings Time. How did I come to that conclusion you ask? Well, upon nibbling on my son's cheeks, which he normally loves, he yelled "Mom, stop waking me up when I am still sleeping!"
Maybe he will forgive me when he sees what is for dinner tonight. After all, the kids love sausage, sugar snap peas and as with all kids, noodles bring smiles.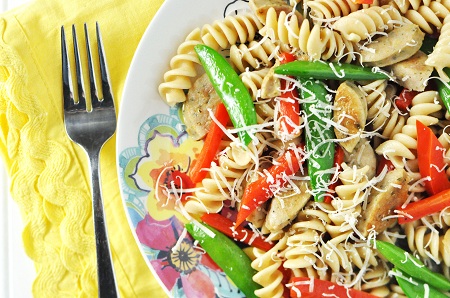 Quick & Easy Rigatoni with Chicken Sausage & Sugar Snap Peas (serves 4)
Ingredients:
6-7 oz dry of whole grain rigatoni
2 chicken sausage (I used Al Fresco roasted garlic with onions and herbs, 6 oz total)
4 oz. sugar snap peas
1/2 – 3/4 red bell pepper, thinly sliced
1 tablespoon extra virgin olive oil
A few tablespoons of reserved pasta water
1/3 grated Parmesan cheese
Salt & ground black pepper, optional
Directions:
1. Bring a large pot of water to a boil and cook to manufacturer's directions to al dente.
2. Once the pasta has been boiling for 5 minutes, heat a large skillet and oil over medium heat. Add the sausage and brown for 4-5 minutes, tossing frequently. About this time, the pasta should be done so drain it however, reserved a 1/2 cup of the pasta water.
3. Add the sugar snap peas, red pepper and a few tablespoons of reserved pasta water. Toss and cook for a few more minutes. Top with Parmesan, mix, taste and season with salt and pepper to taste.
Which part of daylight savings time do you prefer: springing back or falling forward?