While in spin class this morning, I drifted off thinking about recipes I wanted to create, when I remembered that I have some strawberries that are looking a bit fugly.
Yes, when you have a bowl of fugly strawberries, folks tend not to eat them and then they become rotted and trashed strawberries. Sinful.
Since I have shared both a strawberry and strawberry-kiwi muffin recipes, I decided to scour the crisper drawers to see what else was going to spoil soon so I could get all creative for you. I grabbed the lemon and gave it a squeeze. oh my, getting squishy. I cut it open to find it perfectly useful so a combo-muffin was born!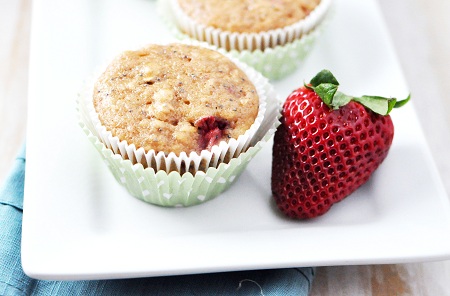 Strawberry-Lemon Poppy Seed Muffins with Lemon Glaze (Yield 18 muffins)
Ingredients:
1 quart of overly ripened strawberries, hulled, rinsed and cut into small pieces
3/4 cup unbleached white whole wheat flour
3/4 cup unbleached all purpose flour
1/2 cup old fashioned oats
2 teaspoons baking powder
1/2 teaspoon baking soda
2 teaspoons poppy seeds
1 tablespoon grated lemon zest
1/4 salt
2 eggs, beaten
3/4 cup packed brown sugar
1/4 cup canola oil
1/4 cup milk
1/2 teaspoon pure vanilla extract
1 1/2 cups confectioner's sugar
3 or more tablespoons freshly lemon juice
Directions:
1. Preheat oven to 350 degrees. Insert baking cups in 18 muffin tins wells.
2. In a small saucepan, bring strawberries to a boil over medium-high heat, mashing gently while they cook for 1 minute. Pour into a bowl to cool.
3. In a medium bowl, whisk together flours, oats, baking powder, baking soda, poppy seeds, lemon zest and salt; set aside.
4. In a separate bowl, beat the eggs then mix in brown sugar, oil, milk, and vanilla until combined.
5. Add dry ingredients to wet and fold to combine.
6. Fold in the strawberries and juices from boiling the strawberries.
7. Fill the baking cups about 3/4 full with batter and bake for until a toothpick inserted in center comes out clean, about 22 minutes.
8. When the muffins are completely cool, combine the confectioner's sugar and lemon juice and mix with a fork. spread over the muffins and allow to firm up. If you wanted to thinner glaze, use more lemon juice.