This weekend we had the privilege of spending time with friends. On Saturday we hosted some friends under 8 and had fun playing outdoors while grilling on the new patio. Then on Sunday, we spent time with many, many friends of all ages for Isabel's birthday party. I guess I would call it a warm, fuzzy and delicious weekend.
We love being outside: the fresh air, the warmth and all the activities we enjoy surrounded by cheerful voices. From kicking the soccer ball, playing cars on sticks to simply taking care of yard work and grilling & BBQ'ing in the summer.
One of my goals when we entertain is to have time to spend with my guests and not be distracted with food prep, so quick and easy recipes prepared ahead of time are a must. When it comes to grilling and hosting, I want foods that don't require too much babysitting or multiple dishes that you need to focus on.
Since the grilling & BBQ season is approaching, I want to share some tips (and a delish recipe) for grilling and entertaining at the same time:
A. Clean your grill before company comes so can get down to cooking and give them great tasting food. You don't want your chicken to taste like last week salmon right?
B.Have your tools ready as well as platters to place the food onto when it is done cooking.
C. Make sure your gas grill has enough propane so you don't have to run out while your company is here.
D. Set up a self-serve bar, so your guests can make their own drinks while you work the grill…..keep it close enough to be able to chat with your company but not so close that alcohol is near the grill.
E. Set some appetizers out as well so guests can nibble a bit while you grill up the main coarse.
F. Prep as much as you can ahead of time.
G. Relax and enjoy.
One of my favorite dishes to grill and serve is Balsamic Thyme Grilled Vegetables. You have many veggies to choose from, there is balsamic vinegar involved and gosh, when you grill veggies, they get so sweet.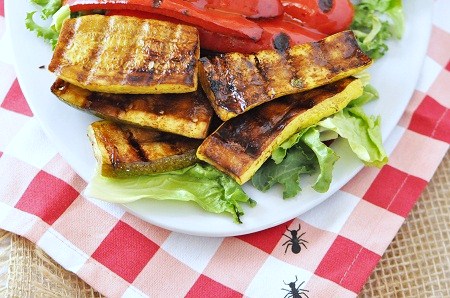 Oh no, I see uninvited guests approaching the veggies.
Balsamic Thyme Grilled Vegetables (Yield = 6-8)
Ingredients:
1 yellow squash, sliced vertically into thick slices
1 green squash, sliced vertically into thick slices
1 red onion, sliced into thick circular slices
1 baby eggplant, sliced into thick circular slices
3 portabella mushrooms caps
1 red pepper, cut into 3-4 large pieces
1 crusty baguette or ciabatta bread, sliced and brushed lightly with olive oil
1 cup of balsamic vinegar
1 cup of extra virgin olive oil
fresh thyme
3-4 cloves of garlic, roughly chopped
Directions:
1. Whisk together the vinegar and oil. Mix in the thyme and garlic and set aside.
2. Place the vegetables into two separate plastic storage bags and evenly divide the balsamic mixture.
3. Allow the vegetables to marinade for at least an hour in the refrigerator, gently flipping the bag over periodically.
4. Heat the grill to medium and then grill the vegetables until they are cooked but still slightly firm.
p.s. Be sure to make some Strawberry Lemonade for every grillin' party. Folks demand it around here!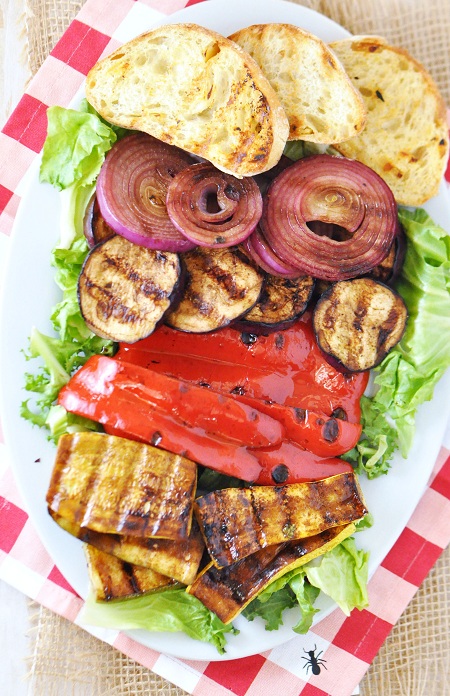 These are just some of the reasons why Grilling is my Happiness. Besides all of the tasty food, tell me what you love about grilling. One of my lucky readers who answers below will win a $25 Sears Gift Card!
This is a sponsored conversation written by me on behalf of Sears. The opinions and text are all mine. Official Sweepstakes Rules.