Pop Quiz! Do you know which President is on the dime*?
It totally relates to this story and even if it didn't, you should know anyway. I mean you could be on Jeopardy some day.
Before I give you the answer, I will share the story that I call 'A funny thing happened on the way to the Thomas Jefferson Memorial': This past Easter Sunday, we were walking around the Tidal Basin when my very excited son yelled 'Mom! Dad! Who is on the Dime?'
We both replied 'Um…..we can't remember. Why?'
Ben belted out 'Well, I hope it is not Thomas Jefferson because he has a small head and only half a neck!'.
We could not stop laughing. His response was not as pleasant as he yelled at all of us and stuck his tongue out at his sister.
A child's intellect can be dang delicious.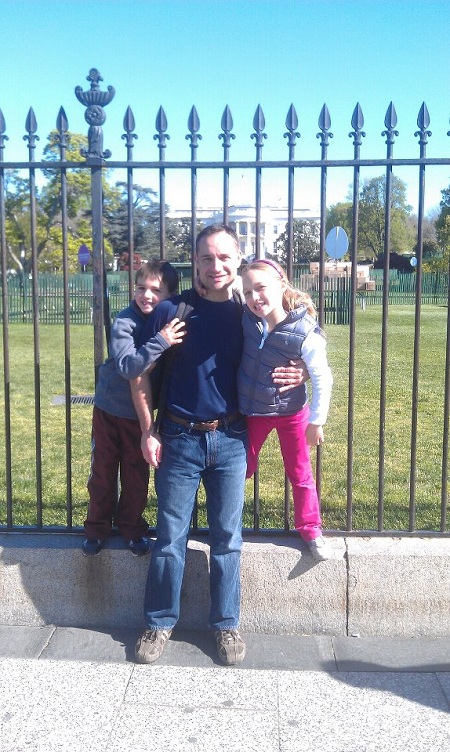 Are you wondering why I called this described this recipe as 'Cozy'? Well, the way I see it, if you can make a 'quick as a whistle' meal, then you have more time to cozy up to the ones you love.
Go on, cuddle.
Quick & Cozy Lemon Chili Shrimp with Pesto over Pasta (serves 4)
Ingredients:
1 pound raw, shelled and deveined 16-20 size shrimp
2 dashes of chili powder
1 teaspoon lemon juice
10 ounces of whole grain uncooked pasta (I used rotini)
1 teaspoon extra virgin olive oil
1/3 cup pesto
fresh lemon peel, optional
salt and pepper, optional
Directions:
1. If time permits, toss the shrimp with lemon juice, sprinkle them with chili powder and marinade in the refrigerator. If time does not permit, skip the marinading time.
2. Bring a pot of water to a boil and cook the pasta per box instructions.
3. Meanwhile, heat the extra virgin olive oil over medium heat in a large skillet. Add the shrimp and cook for 2 minutes. Gently flip the shrimp over and cook an additional 2 minutes or until pink. Be careful not to overcook.
4. Add the pesto to the pan, toss and remove from the heat. Drain the pasta and toss with the shrimp. Top with fresh lemon peel and taste. If you wish, add some fresh pepper and salt.
*So, did you look up which President is on the dime? Yup, Franklin D. Roosevelt. I won't tell anyone you looked it up.