I have spoken about my friend Kelsey before (saffron rice recipe & drinking lattes) and have been itching with anticipation for over a year to share news with you! Kesley has been hard at work writing her cookbook 'The Naptime Chef: Fitting Great Food Into Family Life' and it is now published!
When the book arrived at our house, I left it on the counter for one minute while I stirred some sauce. Along came my husband who picked it up and started flipping through it. This man, who is not one that often takes interest in cookbooks, stated 'I love the photos in this book and hope you will be making me something from Kelsey's book today. I immediately tweeted Kelsey to tell her.
I was so excited for Kelsey that she told me to go ahead and share a fabulous chewy cookie recipe AND give a copy of her great cookbook away!!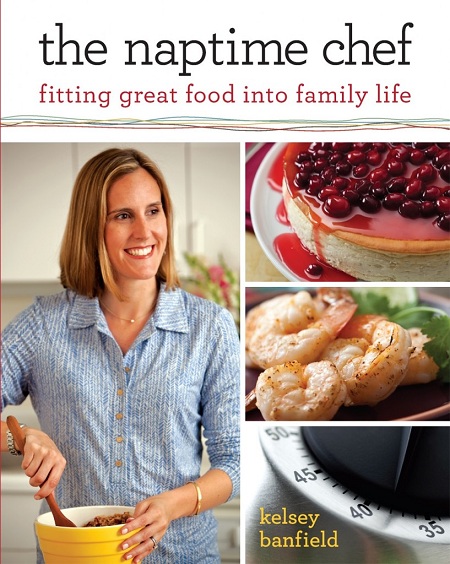 To Enter, Answer this question in a comment on this post: What is one of your time-saving meal tips?

For additional entries (you must answer the question above & leave an additional comment on this post for each entry):
– Tweet this giveaway, "Hoping to win @thenaptimechef Cookbook 'Fitting Great Food Into Family Life' from @savorthethyme http://su.pr/2QdiH9 " (Be sure to come back and leave the tweet URL.)
– Subscribe to the Savor the Thyme RSS feed and leave a comment that you did so (yes, I verify).
– Follow @savorthethyme on Twitter.
– Like the Savor the Thyme community on Facebook and let me know you entered.
This giveaway will end on Sunday, April 8th at 11:59 pm EST.  The winner will be chosen by random.org and will be contacted by email. The winner must respond within 48 hours or a new winner will be chosen.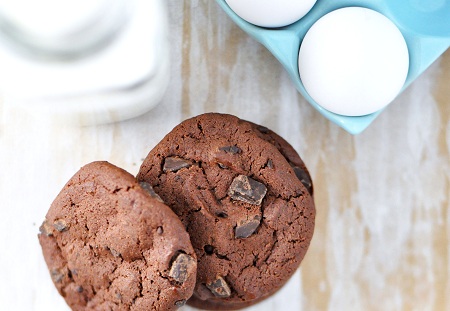 Besides the Double Chocolate Espresso Cookies recipe, I am also excited to make the Strawberries and Cream Overnight French Toast, Caramel-Stuffed Cinnamon Muffins, Asparagus with Feta Vinaigrette, Sticky Orange Drumsticks and the Chocolate-Zucchini Loaf.
Need.Them.All.Now.
Double Chocolate Espresso Cookies (yield: ~4 dozen cookies)
Ingredients:
2 1/4 cup all-purpose flour
¾ cup unsweetened cocoa powder
2 Tablespoon instant espresso powder
1 teaspoon Kosher salt
1 teaspoon baking soda
2 ¼ sticks or 10 ounces unsalted butter, room temperature
1 cup sugar
1 cup tightly packed light brown sugar
2 large eggs, room temperature
12 oz.    (1 bag) semisweet chocolate chips (I used 10 oz of solid chocolate bar, cut into chunks)
Directions:
1. In a separate bowl mix together dry ingredients: flour, cocoa powder, soda, salt and espresso powder and set aside.
2. In an electric mixer fitted with the paddle attachment, cream the butter and both sugars on medium speed until light and fluffy, about 2 minutes. Add the eggs one at a time, beating well after each addition. Turn off the mixer and scrape down the sides and bottom of the bowl with a rubber spatula.
3. With the mixer on low slowly add dry ingredients to the wet ingredients until the dough is combined, stopping the mixture to scrape down the sides as needed. Once the last of the dry ingredients is mixed in, turn off the machine. (Do not overbeat.) Using a wooden spoon, mix in the chocolate chips/chocolate chunks. Transfer the dough to plastic wrap and wrap the dough tightly so no air reaches it. Place it in the refrigerator  and chill for at least 4 hours or up to 3 days.
4. 1. Preheat oven to 350ºF. Line baking sheets with parchment paper or silpat and set aside. Bring the dough to room temperature for about 15 minutes and drop it by the rounded teaspoonful onto cookie sheets,2 inches apart. Bake the cookies for 10 to 12 for 10-12 minutes or until the centers are set. Cool on a wire rack and serve.
From Kelsey: "I am a home cook who firmly believes that you don't have to give up being a foodie just because you are a parent. After my daughter was born I quickly learned that it is next to impossible to get anything done when chasing a child around the house. So I developed a new way of cooking my favorite recipes based on the down time that was available to me during the day – her afternoon naptime – and began calling myself The Naptime Chef. By planning well and employing smart prepping techniques I find that our family can always enjoy great meals without compromising quality or taste. I write about capturing this time in my life as I develop a new sensibility about cooking as a parent, and learn how to fit great food into family life. Sometimes I have plenty of time in the kitchen, and sometimes I cook on the fly. But, no matter what, I love feeding my family and the process of creating food we all can enjoy."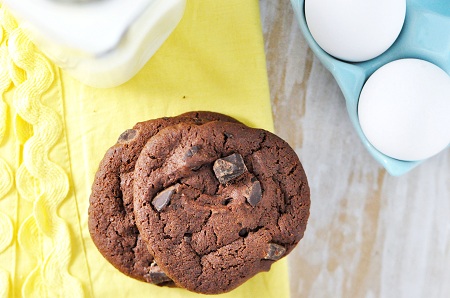 Disclosure: I received a copy of this lovely book for review and then begged to give a copy away because I love the book!