Apparently a 7 year has secrets and not just with her friends.
After picking the kids up from school Thursday, our daughter started to talk about something and then stopped herself and said 'Oh, never mind, that is a secret between me and daddy'
I remarked 'that is alright honey because we all have secrets.'
My husband then looked to me and said 'I don't have any secrets……that you know of'.
Laughter ensued and then a brief cross look from my eyes to his.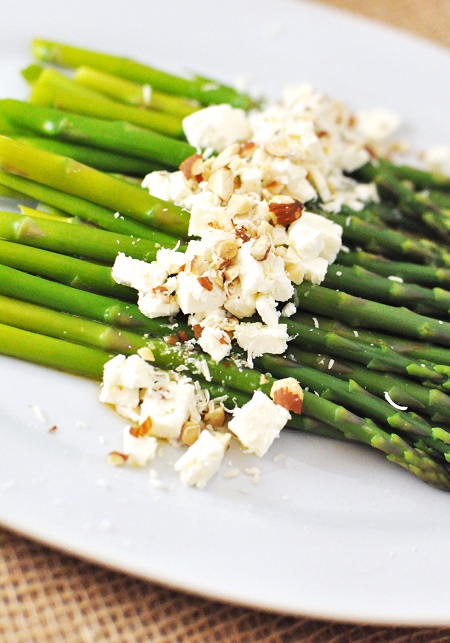 Don't end up kicking yourself for missing out on entering to win 'The Naptime Chef' Cookbook!
Asparagus with Feta Parmesan Vinaigrette and Almonds (Yield = 4 side servings)
adapted from The Naptime Chef
Ingredients:
1 bunch asparagus, stems snapped where they naturally want to break
2.5 tablespoons extra-virgin olive oil
3 tablespoons red wine vinegar
a pinch Kosher salt
a pinch or two of fresh black pepper
2 tablespoons grated Parmesan cheese
2 oz or 1/3 cup chopped or crumbled feta
2 tablespoons or chopped almonds
Directions:
1. Insert a steamer basket into a large pot. Place the trimmed asparagus in the steamer basket and bring the water to a boil. Steam until the asparagus turns bright green.
2. While the asparagus is steaming, prepare an ice water bath.
3. Remove asparagus and place immediately into the ice water for a minute or two. Remove from the ice water, pat dry, and place on a platter.
4. In a small bowl combine the olive oil, red wine vinegar, salt and pepper and whisk well. Drizzle over the asparagus and then top with the feta, Parmesan and almonds.
One more because it is socially acceptable to be a voyeur when it comes to feta.