One of the main objectives of the Ziploc FreshOver campaign with Rachael Ray is to help encourage families to FreshOver your meals at home by incorporating fresh, seasonal foods (more fruits and veggies people) into some of your favorite recipes. This point was driven home at the recent Ziploc FreshOver with Rachael Ray event in New York City.
Because Rachael Ray is concerned about the obesity epidemic in our country, she shared some great tips and ideas for ways to FreshOver your meals at home.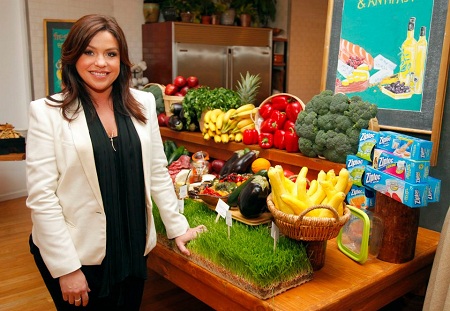 Rachael Ray at Ziploc FreshOver Event in NYC on March 22, 2012 (Photo Courtesy of Gary He)
At the event, there were food stations, including: Guacamole, Bruschetta and a generous spread of Cheeses, Meats and Veggies. The passed food included Chicken Satay Sliders (you knew Rachael would make sure sliders were served), Prosciutto-Wrapped Shrimp, 8-Vegetable Soup with Mixed Herb Pesto, Mini Braised Pork Tacos and Puttanesca Bruschetta.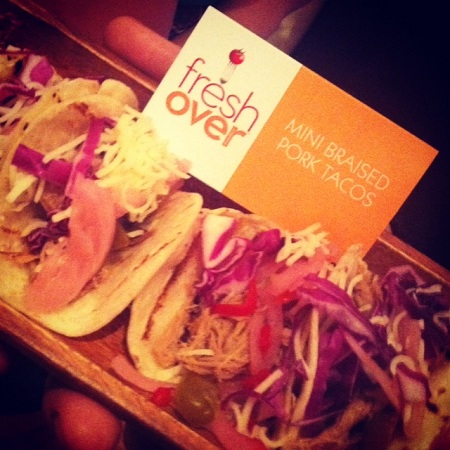 Rachael Ray's Mini Braised Pork Tacos at Ziploc Freshover Event (Photo Courtesy Momgenerations)
Rachael Ray also loves using Ziploc Brand products and adores the new Ziploc Perfect Portions bags, designed for portion control.
Speaking of the Ziploc Perfect Portions bags – by now you know how important it is to me to feed my family fresh wholesome food and organics as much as possible. However, that can mean a high grocery bill and one way I approach saving on food is to buy in bulk when I can. That might mean a once a month trip to a wholesale club or stocking up when there are great sales at our local grocery stores. This also means that I need to properly store the food I buy in bulk.
One way I do this, is to divvy up the package of meats and freeze them. Normally that means grabbing the raw food and carefully placing it in the freezer bags all the while trying not to contaminate the outside of the bags or touch anything with the hand I used to touch the raw meat/poultry. This also means sometimes needed assistance putting soap on my hand, turning on the faucet, etc. Luckily, Ziploc Perfect Portions bags help eliminate these concerns.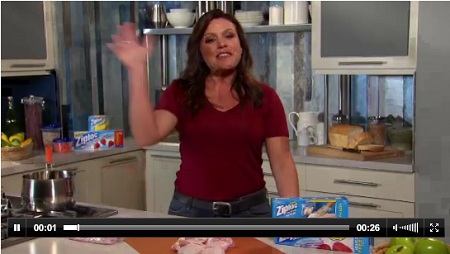 I want you to also consider using the Ziploc Perfect Portions bags and freezing meals that are already somewhat prepared. How you ask? One trick I have used is to insert one hand into a Ziploc Perfect Portions bag, open the meat/poultry package, drizzle a marinade over the protein using my other hand and then placing the meat/poultry them into the Ziploc Perfect Portions Bags and into the freezer bag. Then I label the freezer bag depending on the marinade (example: BBQ Pork Chops). I know my husband appreciates it when I leave him a note letting him know to please 'Thaw the BBQ Pork Chops.'
Speaking of eating fresh foods, Ziploc Brand has completed its Fresh Eating Survey and I want to share what I consider the highlights of the survey. In this study of "Freshest Cities," they analyzed the 50 largest U.S. metro areas to find those places whose residents are seeking the fresh food options. In the study, they looked at five factors which are correlated with a clean, fresh, healthy lifestyle, with the emphasis on food freshness: # of Farmers Markets per city, # of CSA Farms (Community Supported Agriculture) per city, # of Fast Food Restaurants per city, average amount of servings of vegetables, fruits, salad and an online survey that asked about people's behaviors towards food, cooking and gardening.
From this study, The Top Ten Freshest Cities identified were: Hartford, Conn., San Francisco, Sacramento, Calif., Portland, Ore., San Jose, Calif, Richmond, Va., Austin, Texas, Boston, Mass., Washington, DC, and Minneapolis-St. Paul, Minn.
Other notable statistics that jumped out at me were:
• In the U.S., there are 1.45 farmers markets per every 100,000 people, however there are 60.1 fast food establishments per every 100,000 people.
•Seventy percent of people responded to a survey saying they do not have a garden (30 percent said they did).
• More than 52 percent of people said they make poor and unhealthy food choices either for dinner or late night.
• More than 81 percent of people said they were looking for more ways to incorporate fresh ingredients into their family's meals.
• Almost 89 percent of people said they feel like a good parent when their family eats fresh food (72.2 percent strongly agree with this statement).
Since 81 percent of you want to find and more ways to incorporate fresh ingredients into meals, Ziploc Brand is hosting The Great American FreshOver Sweepstakes now through May 2, 2012. Fans can enter on the Ziploc Brand Facebook page by "liking" the page, entering The Great American FreshOver app on the page and offer a FreshOver food idea, in the form of a recipe or tip in text. During the sweepstakes, fans will be rewarded with access to exclusive Rachael Ray videos and tips, weekly prize drawings, coupons and one lucky grand prize winner will win a trip for two to experience the ultimate culinary experience in America's food capital – New York City. Grand prize winners will stay in New York City for three nights and four days, can eat at the most sought after "fresh" restaurants and swap recipes with Rachael Ray. No purchase or payment of any kind is necessary to participate. Find out how to enter here and read the official rules.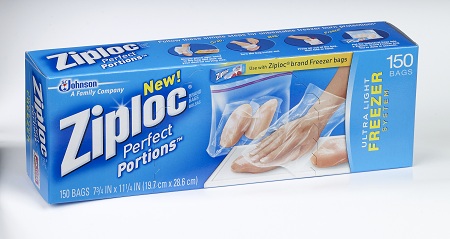 Ziploc Perfect Portions
Finally, in order to help you all continue on your FreshOver journey, I want to give you a fun prize pack! This prize pack will include kitchen gadgets, accessories for trips to a farmer's market or an eating fresh gift pack with Rachael Ray's Look + Cook cookbook, each worth about $120.
To Enter: Answer this question in a comment on this post: What is your favorite way to incorporate fruits or vegetables into a meal?
For additional entries (you must answer the question above & leave an additional comment on this post for each entry. If you don't enter above, the entries below are void):
– Tweet this giveaway, "Win a #Ziploc Prize Pack from @savorthethyme http://su.pr/7l3tz9 #FreshOver #spon (Be sure to come back and leave the tweet URL.)
– Subscribe to the Savor the Thyme RSS feed and leave a comment that you did so (yes, I verify).
– Follow @savorthethyme on Twitter.
This giveaway will end on 4/19/2012 at 11:59 pm CST. The winner will be chosen by random.org and will be contacted by email. The winner must respond within 48 hours or a new winner will be chosen. Click here for the Official Rules.
Disclosure: I have partnered with Ziploc® Brand and am being compensated for my posts. However, my opinions on the product are my own.
Event Photos courtesy of Momgenerations and PartyBluPrints.