I can admit it: I love looking at, hunting for and reading about beauty products. Lately, I have been on the hunt for some new products to try as my skin started breaking out. You may think 'big deal' but I am not 18 and my skin has never had a big breakout problem.  I was honestly pretty bummed about it.
Ironically, I was contacted by Juice Beauty about a month ago to see if I was interested in trying and reviewing some of their products. I told them I would be happy to try them but I would spend at least 2 weeks using them and had to love them before I agreed to write about the line.
I was sent the 'Age Defying Solutions Kit' as well as the Hydration Mask to try. Here are my thoughts: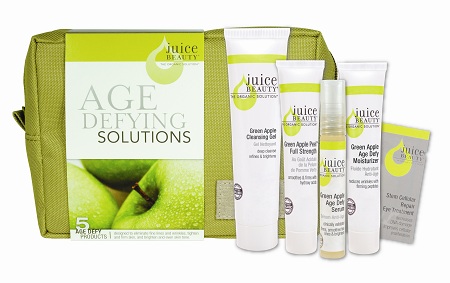 Cleansing Gel: I was thrilled as soon as I used the cleansing gel as I require a face wash that rinses off easily, does not leave my skin feeling dry or not fresh and I do not want to have to use a large amount of it to wash my face.
Serum: The serum is light and spreads easily which my skin appreciated. I don't want to have to tug my skin to apply a product and this was smooth.
Moisturizer: I was looking for a light-weight moisturizer for the spring and summer and this was perfect. My only wish was that it has an SPF in it so I peeked at the product line and saw that they do have a SPF version however that version was not in the kit.
Eye Treatment: My requirement for an eye cream is that I must be able to easily and lightly tap it around the eye area and not have to rub it in for it to be absorbed. I also love when it feels cool on my skin. My only issue is not with the cream but that the sample size in the kit needs to be more generous.
Peel & Mask: The great thing about these is that they did not set up so tight and uncomfortable that I felt like I could not talk. I felt refreshed after using it. For my skin which gets dry easily, I would not use it more the peel more than twice a week. Actually, they have a sensitive version that I might try when this one runs out.
What else do I love about Juice Beauty? The products do not contain parabens, propylene or butylene glycols, petroleum, sulphates, PEGs, TEA, DEA, phthalates, GMO, silicones, pesticides, artificial dyes or fragrances. Do I hear you applauding?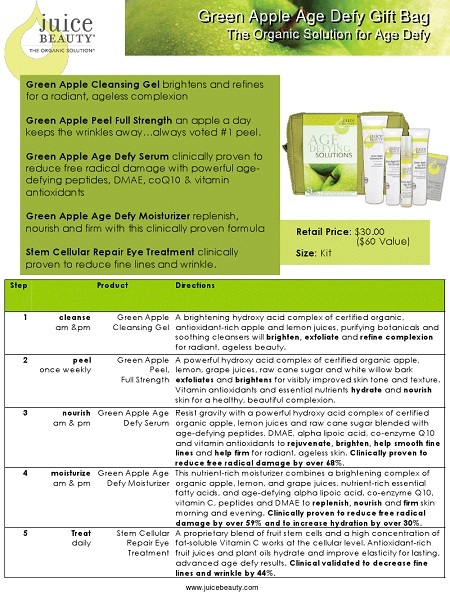 How would you like to try one of the kits or any product you wish?! Well then this is your lucky day as here is a chance to win a $50 gift certificate!
To Enter to win the $50 gift certificate: Simply subscribe to the Juice Beauty Newsletter and then leave a comment telling me you subscribed.
For additional entries:
– Tweet this giveaway, "Win a $50 gift certificate for @juicebeauty from @savorthethyme http://su.pr/1fPzXX" (Be sure to come back and leave the tweet URL.)
– Subscribe to the Savor the Thyme RSS feed and leave a comment that you did so (yes, I verify).
– Follow @savorthethyme on Twitter and come back to tell me you followed.
– Follow @juicebeauty on Twitter and come back to tell me you followed.
– Like Juice Beauty and come back to tell me you followed.
– Join the Savor the Thyme community and come back to tell me you followed.
This giveaway will end on 4/26/2012 at 11:59 pm EST. The winner will be chosen by random.org and will be contacted by email. The winner must respond within 48 hours or a new winner will be chosen.
Plus, whether you win or not, Juice Beauty offered this to all of you loyal readers: Use the special promo code THYME for a Free Organic Facial Rejuvenating Mask  w/ any order of $35+ on juicebeauty.com.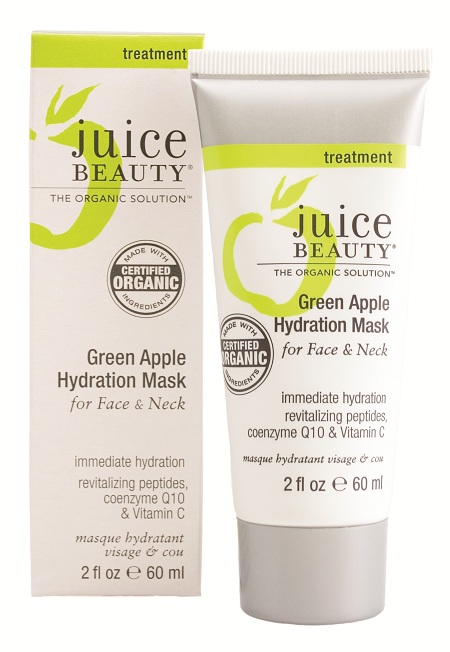 I also wanted to share the Juice Beauty EcoChic Values before I let you go off to enter the giveaway.
1. Clinically Validated Results: efficacy achieved through cutting edge organic technology.
2. Authentically Organic: target a standard for all Juice Beauty products to fall within 80 – 98% total organic content. Meet California Organic Products Act minimum of 70% total organic content (excluding water) by using a certified organic base & ingredients.
3. Powerful Action Without: Stay on the cutting edge of purity by excluding Parabens, petroleum, butylene and propylene glycol, PEG, sodium lauryl sulfates, pesticides, phthalates, artificial dyes or synthetic fragrances. Continual preservative improvement.
4. Quality Aromas: Achieved from organic & natural essential oils (not synthetic fragrance).
5. Support our USDA Certified Organic Farmers: Stay close to our suppliers.
6. Buy Local: Buy the majority of our ingredients locally from the West Coast.
7. Sustainable & Recycled: Use only sustainably sourced and/or recycled paper for all supplies, focus on recycled components  & recycle again.
8. Solar Power & Gluten Free Labs: Manufacture the majority of our products using Solar Power and all manufacturing done in Gluten Free Labs.
9. No Animal Testing: Conduct no animal testing.
10. Give Back. Juice Beauty currently donates a percentage of all profits to the following charities: San Francisco Breast Cancer Fund; The Organic Center, Teens Turning Green; Conservation International and the documentary-Miss Representation.
Disclosure: I was sent a age defy kit, full sized serum and apple peel.  The opinions are mine.