This week I walked out of CVS with my husband's favorite toothpaste and shaving gel for $.54! In fact, I only had to pay the $.54 for tax since you can't use extrabucks to cover tax.
Do you want to see how I saved $8.68? Then head over to Koupon Karen where she will show you. She was so proud of me.
Before I forget, one of the best tips I have learned from Karen is that you can scan your CVS card up to 3 times in a row/per day at the kiosk! It is true. I used to simply scan it once and walk away. If I did that Tuesday, I would not have gotten the $1 the toothpaste coupon.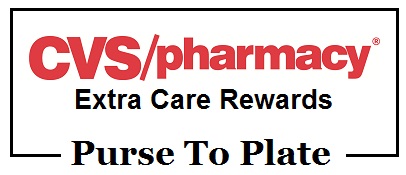 Onto what I made with my savings this week: Stop and Shop had the following items on sale and once broken down for the recipe for 4, it costs approximately $6.25 for 4 servings -> $1.56 per person
a. chicken breasts: $1.99/lb.
b. 2 cups of spaghetti sauce from barilla on sale = $2.00
c. 1 cup shredded Mozzarella cheese: buy sargento on sale $1.25
d. Use bread crumbs from the pantry, flour, an egg and parmesan I already had = guessing ~$1.00
Serve with a vegetable and some whole grain pasta.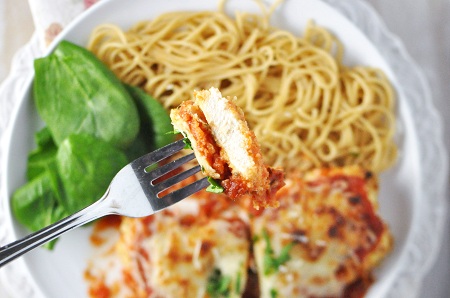 Baked Crispy Chia Seed Chicken Parmesan (Yield = 4)
Ingredients
2 chicken breasts (~ 1 lb.) cut in half lengthwise yielding 4 pieces
1/2 cup unbleached all purpose flour
1 egg, beaten with a tablespoon of water
1 cup of Panko bread crumbs
1/4 cup shredded cheese parmesan
A few pinches of whole chia seeds
2 cups of spaghetti sauce
1 cup shredded or a few slices of parmesan, cheddar or mozzarella cheese
Directions:
1. Preheat the oven to 350 degrees Fahrenheit. Place a cooling rack onto a baking or cookie sheet and spray lightly with olive oil spray.
2. On one plate place the flour, in a bowl beat the egg and water and on a separate plate, place the bread crumbs with the remaining 1 cup of cheese and the chia seeds.
3. Prepare the chicken breasts and when ready, do the following: dredge the breasts lightly in the flour, shake of the excess and then lightly coat it with the egg and then bread crumbs mixture and place on the cooling rack. Repeat for all four breasts.
4. Bake for 20 minutes. Remove from the oven and cover with the spaghetti sauce and more cheese and bake for an additional 5 minutes.