It isn't easy being green. Not.At.All.
When it comes to being a green vegetable that is. Many of us, including you picky adults, make those nasty faces when you see a green vegetable coming at you. Shame on you!
To be honest, green beans are one vegetable that all four of us enjoy in this family however, I have been making the same ole' steamed side dish foreva so I decided to change things up.
I spent some time hanging with my Twitter peeps and we had a lively discussion about green beans. My fitness pal Monica said she like to make green beans by sauteeing them on the stove-top and that got me to thinking 'Can I make green bean 'fries'?
As they were in the oven I panicked at the thought of them being all brown and wrinkly and the family running for the hills when they saw them. I knew for my son, if I served then with a side of ketchup he would be intrigued at the very least.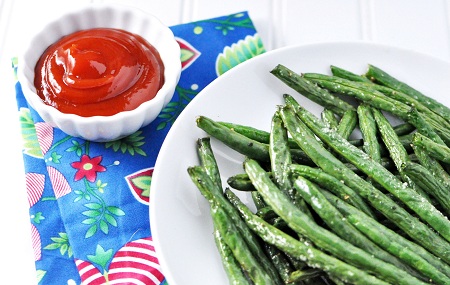 Roasted Whole Green Beans Fries (Yield = 4-6 side servings)
Ingredients:
1 lb. of green beans, ends trimmed, rinsed and patted semi-dry
A light drizzle of olive oil
A scattering of garlic powder
A scattering of sea/kosher salt
Fresh ground pepper
Directions:
1. Preheat the oven to 400 degrees Fahrenheit. Place a cooling rack onto a baking sheet.
2. Place the green beans in a large bowl, drizzle with olive oil and toss well. Place the green beans in a single layer on the cooling rack and top with garlic powder, salt and pepper.
3. Bake for 20-25 minutes until slightly crispy.
He sees, he dips….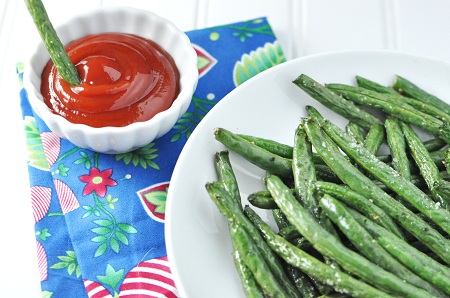 He bites and …..