I am blushing. I am about the shade of um, red lipstick right now. Why you ask? Well, I spent some time reading yesterday and the books I am reading are enough to make one blush.
You guessed it right? Yes, I am reading the 'Shades of Grey' series and just telling you that has made me blush. I was hoping to spend plenty of time reading on Mother's Day but we were very busy with multiple fun tasks which I will share in another post.
Back to food: For some reason instead of having a meal made for me, I bought one of my husband's favorite foods, scallops and made a simple and quick dish. We ate a salad and brown rice with the scallops.
Then I ran upstairs to read.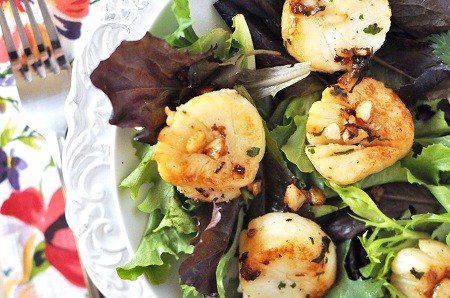 Sauteed Scallops with Garlic & Parsley (Yield = 4)
Ingredients:
1 pound Sea Scallops (yielded of 12-16)
2-3 teaspoons grapeseed or olive oil
2 large cloves of garlic, roughly chopped
A handful of Parsley, chopped
1 teaspoon unsalted butter
Fresh ground pepper
A few squirts of lemon juice
Sea Salt
Directions:
1. Combine the oil, garlic and parsley and toss gently with the scallops. You may store in the refrigerator to marinade if you wish.
2. Heat the butter in a skillet over medium heat.
3. As the butter begins to bubble, add the scallops, top with some fresh ground pepper and let them saute 2-3 minutes.
4. Carefully flip the scallops and after 1 minute, squirt the lemon juice on them and allow to cook another minute or two if necessary. You do not want to overcook the scallops so once they are opaque, stop cooking them.
5. Sprinkle on sea salt if necessary.
Awesomesauce eh?