I may have mentioned a few times in the past that my husband is Portuguese. You know what that means right? he likes sweet rolls. That was all the inspiration I needed to whip up this recipe using King's Hawaiian Hot Dog rolls and I figured if we were going to use sweet rolls, we were not going to top it with ketchup and mustard.
Therefore, I developed this citrusy and slightly spicy salsa that plays off of the classic Hawaiian pizza recipe (ham, pineapple etc.) and pairs perfectly with the sweetness of the rolls.
Although I am not normally a big hot dog fan, there is something about the summer that makes one crave a hot dog or a hamburger right? Amen!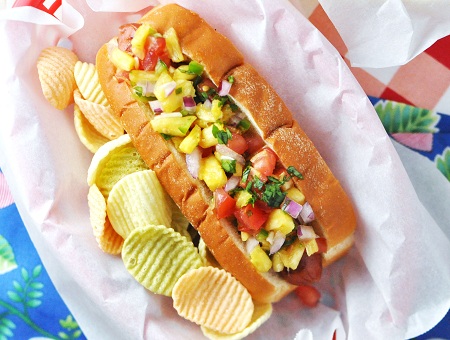 Grilled Hot Dogs with Hawaiian Pineapple Salsa (Yield = 4)
Ingredients:
4 All natural hot dogs (no added nitrates/nitrites)
1 cup chopped fresh Pineapple
1 cup diced Tomato
1/2 jalapeno (seeds removed, minced
1/4 cup diced red onion
2 cloves of garlic, minced
A big handful of fresh cilantro, finely chopped
Directions:
1. Combine all ingredients, mix well and place in the refrigerator for an hour if times permit.
2. Grill the hot dogs, place into the rolls and top with a heaping amount of the salsa.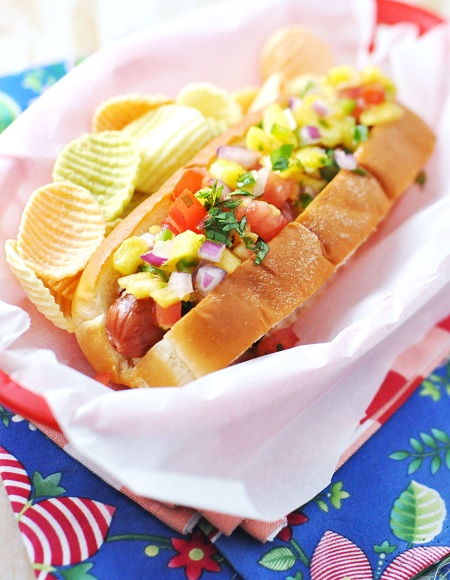 I love to share inspired recipes with friends and family. What is your favorite dish to share with the family? Comment below and you'll be entered to win a $200 Grocery gift card King's Hawaiian.
This is a sponsored conversation written by me on behalf of Kings Hawaiian. The opinions and text are all mine. Official Sweepstakes Rules.