A good salad is a classic.
I hope you agree that it is as classic. Heck, maybe even as American as Apple Pie.
So, maybe it isn't as drooled over as Apple Pie BUT if you behave and eat this salad before you indulge in some Fourth of July Apple Pie, then maybe you won't feel guilty.
Assuming you feel guilty after indulging in Apple Pie.
Jeez, just eat some salad so you don't get a lecture from your doctor too okay?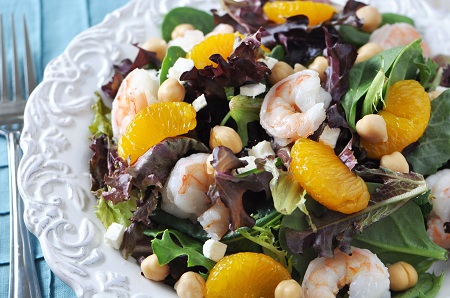 Oh wait until you see what I used for the dressing!! Stay Tuned!
Shrimp, Chickpea & Mandarin Orange Salad (Yield = 4)
Ingredients:
4 cups of organic Mesclun salad mix
1.5 cups cooked shrimp
3/4 cup chickpeas, rinsed
1-2 mandarin oranges, peeled and segmented or from a can and drained
1/3 cup crumbled feta
Directions:
Combine all ingredients and divide into four servings.
See, all American!