There is a lot of crispiness going on around here: it is 100 degrees so the outdoor plants are crispy. Too much time in the sun is making people crispy. A few minutes without sunscreen with make you crispy and these Parmesan crisps are crispy.
What is with the sassy you ask? The answer is two-fold: #1 my daughter when she is cranky from the heat. #2 These crisps if you add cayenne.
Excuse me while I go sip an iced coffee with a ice water chaser…..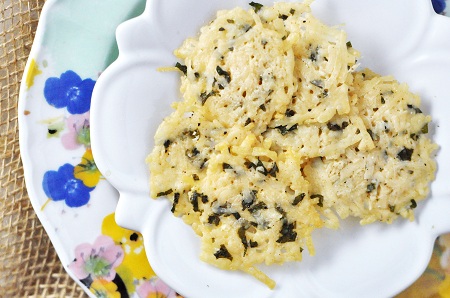 Herbed Parmesan Cheese Crisps (Yield = 8)
Ingredients:
1/2 cup shredded Parmesan
A handful of fresh herbs
Directions:
1. Preheat the oven to 325 degrees F.
2. Place about 2 teaspoons of shredded Parmesan onto a silicone mat (or parchment paper) onto a baking sheet and gently pat just a bit being sure not to spread the cheese flat. Do this 8 times with at least a 1/2 inch between each pile.
3. Bake for 5 to 7 minutes or until lightly brown and crisp. Cool.
I am rather confident that I could put a few mounds of cheese on a cookie sheet on the porch and they would melt into crisps. No need to heat up the oven.