My buddy Koupon Karen is ramping up for a soiree and saved some serious moo-la at CVS this week buying beverages.
With those savings, you can easily create five meals for the week but I choose to focus on a fun Summer salad or side dish that your family and guests would adore.
You can also give this a shot with any whole grain, such as, barley.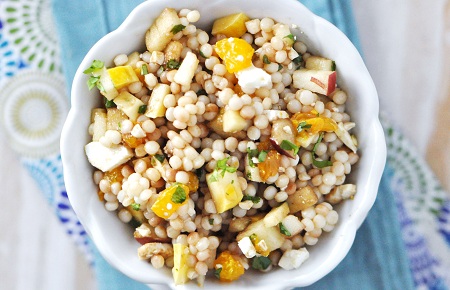 Israeli Couscous Salad with Oranges, Squash, Feta & Apple (Yield = 8)
Ingredients:
1 box Israeli Couscous from Trader Joe's
1 yeloow squash, chopped
1 apple, chopped
1/3 red onion, minced
1/3 cup chopped fresh cilantro
1 mandarin orange, peeled and chopped
1/2 cup chopped feta
Balsamic vinegar, to taste
Grapeseed, or any light tasting oil, to taste
Directions:
1. Cook the Israeli Couscous according to package directions.
2 Meanwhile, prepare the remaining ingredients through vinegar.
3. Whisk the vinegar and oil together in a bowl starting with about 1/4 cup each and then adjust with more vinegar or oil to taste.
Cost Breakdown is an estimate because I did not write down how much I paid for the couscous but let's guesstimate: $3 couscous and all other ingredients $3 BUT that equals $.75 per person for a generous salad/side dish!
See how much Karen saved and what she scored on!