I don't know about in your house but we are American Girl Doll crazy. When our daughter was tiny, I swore I would never get caught up in the craze but once Grandma gifted her with an American Girl doll, we were hooked.
This year American Girl Doll of the Year is really special to us because my daughter is crazy for gymnastics!
McKenna is one of the most popular American Girl Dolls, and she will only be around for a few more months! Don't miss your chance to get her! Many of her accessories are on back-order as of now, which shows the popularity of this doll. Here is your chance to WIN McKenna for that special girl in your life!
Exciting right? You want one right? Then enter below to win:
The McKenna Dolls
A sporty striped dress with flutter sleeves, a dropped waist, and a pleated skirt
Teal leggings that stretch for the splits!
Strappy slide-on shoes
Purple cotton underwear
A hair band, to sweep her hair back during gymnastics practice
The accompanying book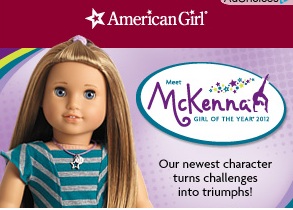 This Giveaway is Hosted By,
 And Sponsored By the Amazing Sites Listed Below:
 Mom To Bed By 8, Miki's Hope, Full Price? Never!, Frugal Freebies and Deals, Emptynester Reviews, TeetheMe, Acadiana's Thrifty Mom, Couponing 4 You, Mommy's Memorandum, Powered By Mom, Mom Does Reviews, Savor the Thyme, Sister's Saving Cents, Mommy Does…, Mom Generations  Give Oh Giveaway, Cira's Lyrics, Soxy's Diamond
Enter on the Rafflecopter Below! Make a Girl's Dream Come True! Good Luck!
Giveaway ends on July 19th at Midnight!!!