Happy Monday! oh come now, no growling. I have a special treat for you today as I am introducing you to my friend Tera.
We are in the Tristate Fitness Group as well as Rhode Island Digital Media Groups together AND besides that, I adore her spice and sassiness – She is my find of peep!
Tera Norberg is a Wife, Mom, Social Media Maven, and Creator of Girl Gone Healthy. Tera lost 100 pounds in 1 year (12/08-12/09) and has kept it off!! She loves sharing recipes, fitness tips, and her daily adventures in keeping the weight off on her blog girlgonehealthy.com Below are Tera's Top 20 go to snacks for a mid day pick me up, after school snack, or an on the go life saver. You can connect with Tera on Facebook and on Twitter.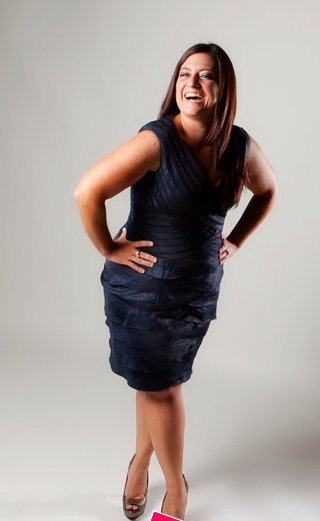 1. Half an apple with 2 teaspoons of peanut butter
2. An orange and a few dry-roasted nuts
3. 10 cashew nuts
4. 10 almonds
5. 2 ounces of lean roast beef
6. Half a small avocado
7. 3 ounces cooked whole-grain noodles with 1 fresh tomato and 1/2 ounce hard cheese
8. 1 seven-grain Belgian waffle
9. 4 mini rice cakes with 2 tablespoons low-fat cottage cheese
10. 3 ounces low-fat cottage cheese and 3 whole-wheat crackers
11. 1/4 cup fat-free ranch dressing with mixed raw veggies
12. 6 Wheat Thins crackers with two teaspoons of peanut butter (or any nut butter)
13. 1 small baked potato with 1/2 cup salsa and 2 tablespoons of fat-free sour cream
14. 1/3 cup of unsweetened applesauce with 1 slice of whole-wheat toast, cut into 4 strips for dunking
15. 1/2 cup frozen orange juice, eaten as sorbet
16. 2 large graham cracker squares with 1 teaspoon peanut butter
17. 3 handfuls of unbuttered popcorn, seasoned with herbs
18. 4-6 ounces of no-fat or low-fat yogurt
19. A 5-ounce tossed salad with lettuce, tomato, cucumber and 1/4 cup fat-free dressing
20. Half a "finger" of string cheese with 4 whole-wheat crackers