Last Friday I took the Amtrak to Boston to attend a 'Parent's Night Out' Event at the Marriott's Residence Inn Boston Harbor on Tudor Wharf property in Cambridge, Massachusetts. I was happy to be able to kick back for the ride and nurse my neck before the busy events began.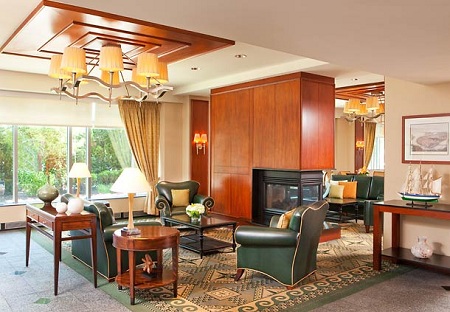 Upon arrival, I was kindly greeted by the staff and shown to my room. I snapped a few pictures before I made a total mess on the bed…..oops, too late: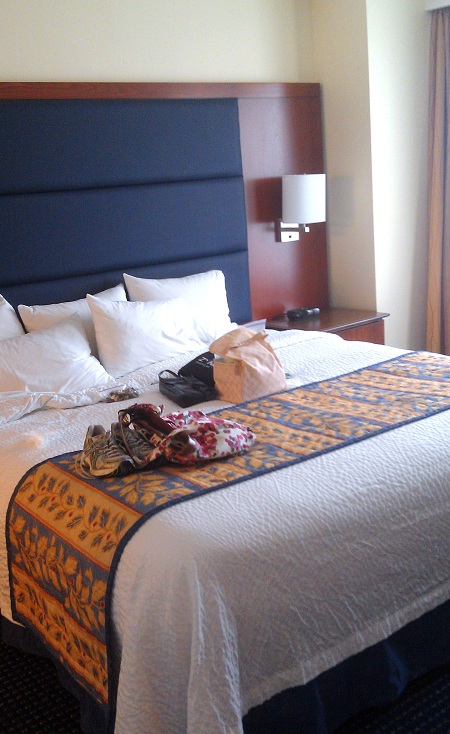 The Living Room….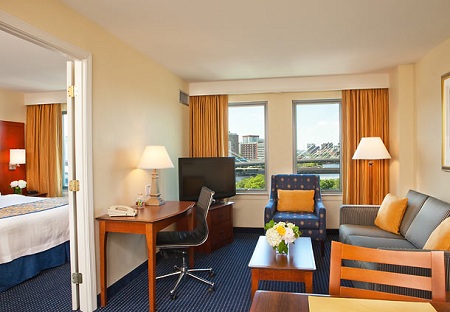 Check out the kitchen – yes, a full size kitchen!!! I was able to also make as much ice as I needed to ice my neck. Score. In fact, I called down to the front desk to ask how to make more ice and they offered to bring some right up to me. I declined as I knew that the freezer would have plenty of time to make some while I was out.
You should already know by now that I cook/plan food & snacks even when our family travels so I always look for rooms with even a kitchenette as they save us money, time and heck, it helps keep me sane.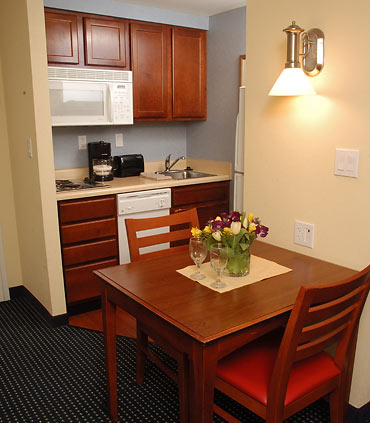 By the way, when I say full kitchen, I mean they have the essentials!! Also, cups, plates, a strainer, coffee pot, bowls, wine glasses and a hand towel.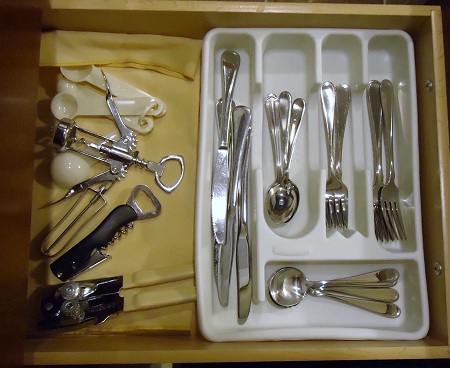 Oh and we always stay where we can find one of these…..
Naturally, I also always look for free Wi-Fi and for real suites. Nothing drives me crazier than a 'suite' with no real separation between rooms. Now, you can book a loft style suite here at Residence Inn but there are plenty of what I call 'real suites' here with walls and doors that separate the rooms. Hooray for hotels that think of families!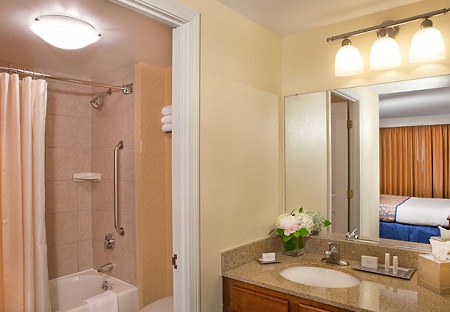 My final essential when looking at a hotel to stay at when traveling with my kids is a free breakfast and let me tell you, this breakfast was not a pile of stale bagels. This was a seriously impressive spread: There were cereals, make your own waffles, eggs, pancakes, oatmeal, pineapple, bananas, coffee, more coffee and a yogurt spread…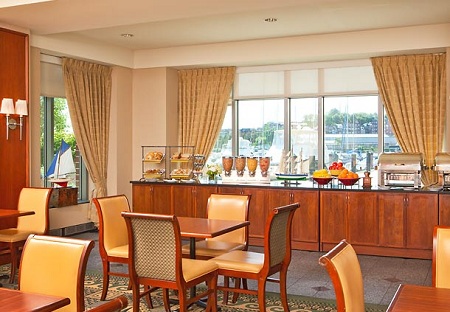 The Residence Inn is happy to have you for one night but they are designed to host you for longer stays. There are weekly theme nights with fingers foods, games etc. There are also laundry facilities. the real kind where you put coins in the machines. Plus, the are pet friendly. However, don't fret if you have allergies as you can request a 'PUR' rooms to address those issues as well.
Also, I need to scream this from the roof top: Residence Inn has the BEST FEATURE: THEY WILL GO GROCERY SHOPPING FOR YOU.  As in you give them a list and only charge your room for the cost of the food. No service charge and no mark up. I know, I thought I misunderstood them as well. I think I asked the manager to repeat that a few times.
Later Friday evening, the management shared some new videos/commercials you will be seeing shortly and this one really caught my eye:

Cute right?! What I learned about this brand and what makes them special is this: They get to know their guests seeing that many stay there for more than a few days. The price per night decreases the longer you stay. They are constantly trying to be the best of the best when it comes to customer service. Finally, a perk at this location you can walk to so many sites such as the North End, the U.S.S Constitution or to the 'T' so leave the car at home (trust me, driving around Boston will make you nuts).
Disclosure: A night's stay, food and tours (I will share in another post) were provided however, my thoughts are my own.