Last week, we spent a day at Six Flags New England Amusement park. We enjoyed our favorite rides and took on the challenge of some rides that scared the ba-jeeez-es out of us.
Okay, I did not go on rides thanks to whip-lash however, I did get to witness the thrill ride facial expressions. Speaking of thrill rides, my hubby took on his fear = the 'Bizarro' steel coaster.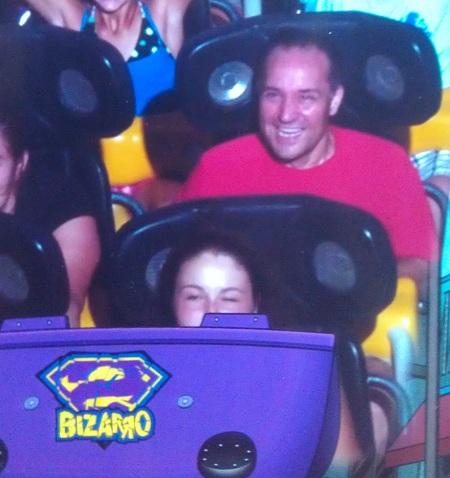 While the family was between rides, I went on a hunt to the surrounding eateries to find some better choice nibbles….you know, the choices you don't normally find at an amusement park? But before I did that I went on the hunt for Iced Coffee!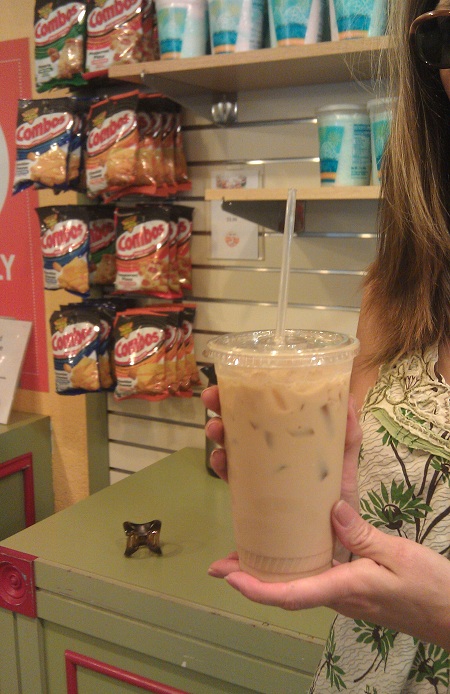 For the kids, I found a kids meals that contained an apple sauce, another side with no artificial colors gelatin and the most brilliant addition to any kids meal evah = hand wipes! All contained in a little lunchbox that the kids loved.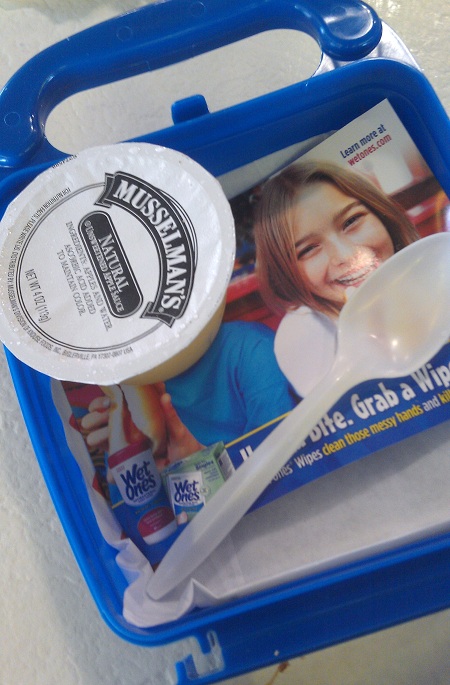 The hubby and I opted for something much more spectacular: A Greek Chicken Pita which plays into the Scavenger Hunt. Are you drooling yet? Are you wondering when I will get to the family 4-packs of tickets giveaway?
After one more photo friends: Our son loved this ride!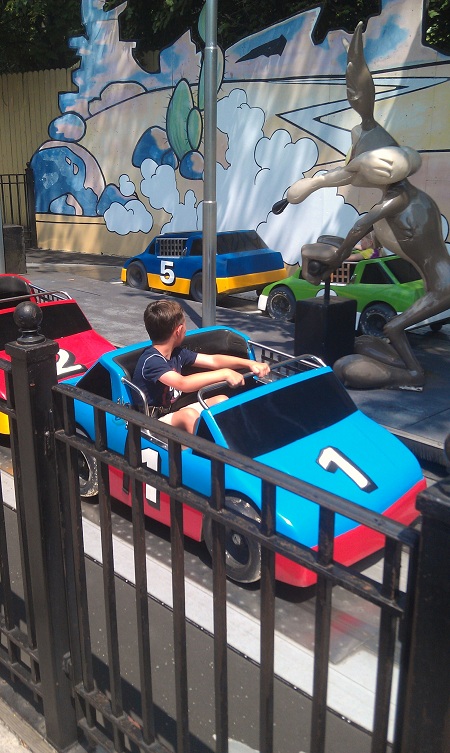 Okay, so to make this fun and adventurous, I will give you two options for entries AND guess what? I am giving away TWO family 4-packs!!
To enter, head over to the Six Flags Website to find the answer my question and then come back and leave the answer in a comment. Question: In which restaurant would you find the food in either Photo 1 OR Photo 2?
A Greek Chicken Pita as in Photo 1 below (hint: in the North End)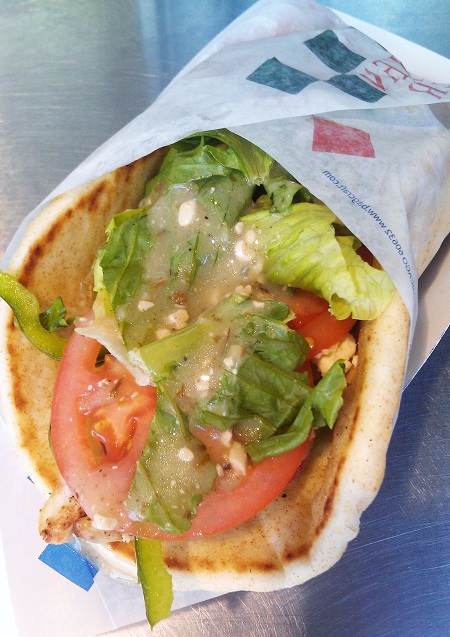 OR
In which 'Cafe' (hint) in Main Street Plaza, could we grab a Grilled Chicken Salad?

For additional entries (you must answer the question above & leave an additional comment on this post for each entry.):
*Tweet this giveaway, "Win a Family 4-pack to Six Flags New England http://alturl.com/cehan from @savorthethyme  (Be sure to come back and leave the tweet URL.)
*Subscribe to the Savor the Thyme RSS feed and leave a comment that you did so (yes, I verify).
*Follow @savorthethyme on Twitter.
This giveaway will end on 8/23/2012 at 11:59 pm EST. The winners will be chosen by random.org and will be contacted by email. The winners must respond within 48 hours or a new winner will be chosen. The tickets will be valid for the remainder of the 2012 season.
Disclosure: I was given a family 4-pack of tickets. If I were you, I would be super smart and buy season passes next year.

Want even more chances to win tickets, head to the Six Flags New England Facebook page.