I know it has been a few weeks since Karen and I shared a Purse to Plate post with you but you no longer need to fret.
Karen did a bit of stocking up this week and saved over $16 so I decided to get a bit creative with a sandwich and I think you will approve.
You may think that an egg sandwich is boring but your are mistaken as I add the unexpected ingredients of an alfalfa sprout mixture, baby spinach as well as sliced boiled eggs. Toss in some basics such as mayo., tomato and onion and you have and big winner and economical one at that.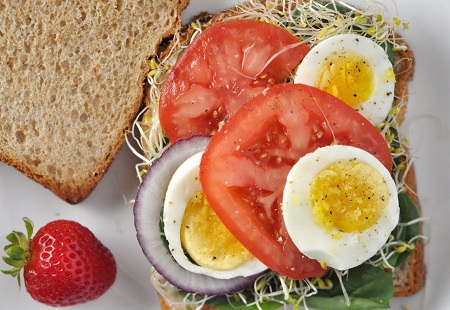 Egg Sandwich with Spinach & Sprouts (Yield = 4)
Ingredients:
1 Tablespoon reduced fat mayonnaise
8 pieces of whole wheat or whole grain bread
4 hard-boiled eggs, peeled
4 slices of tomato, cut on half
A few slices of onion
A handful of alfalfa or any sprouts
A handful of baby spinach
Directions:
Prepare all ingredients, spread mayonnaise onto four of the slices of bread, stack remaining ingredients, top with remaining four slices of bread and enjoy.