Sometimes no mater how hard you try, the kids feel the need to rebel. Maybe just tease their Mommy a wee bit and push her buttons.
The kids know why they need to eat proteins and fruit and veggies. They know why they should not ingest too much sugar. They know why they shouldn't put junk into those busy little bodies.
But my son decided to shock us at the dinner table the other night by stating the following after eating his Broccoli
'Mommy and Daddy, when I get older I am going to open a Coco-Puffs store. It will only sell Coco-puffs'.
I said 'How do you know about Coco-Puffs?'
He said "I saw it on TV at Vovo's (Portuguese Grandma) House'
Oh.
Today I present a very quick, easy and 'sweet' breakfast idea. Forget the Coco-puffs and get your sweet needs meet with some blueberries.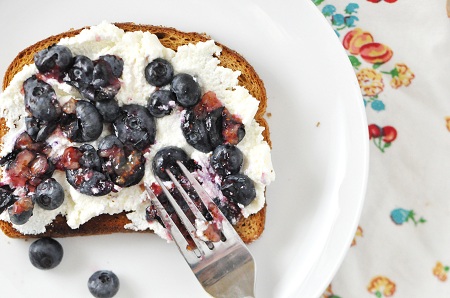 As an added bonus, you can work out some stress by squishing those little blue buggers…..see, really good for you!
Breakfast Toast with Ricotta and Blueberries (Yield = 1)
Ingredients:
1 piece of whole grain bread
2 teaspoon reduced fat ricotta cheese
A handful or so of fresh blueberries
Directions:
1. Put the bread in the toaster set to your desired setting.
2. Once the toast is ready, spread on the ricotta, drop the blueberries on and enjoy.