"In my world, everyone is a pony, and they all eat rainbows and poop butterflies."
This is what my son says most days.
Then he and our daughter break out into the type of belly laughs that make you break out into the uncontrollable laughter that sometimes results in hiccups.
This quote comes from 'Horton Hears a Who' and this is the movie the kids requested the most when traveling this summer.
My son also requests peanut butter just about every day so I made him a little something special to celebrate his first day in first grade. Our now third grader enjoyed them as well because she could eat some with no peanut butter.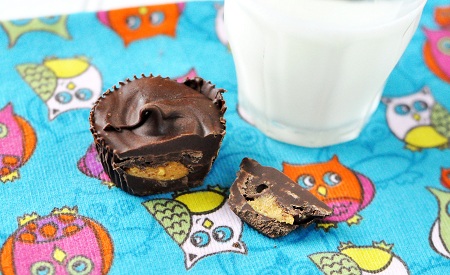 I also decided to make it with Almond Butter and even try some with Sunflower Seed butter since many kids can not have PB or bring it to school. No matter which you use, it tastes great.
I also decided to use semisweet chocolate to lower the sugar content a bit. The kids didn't mind but my husband complained. Doh!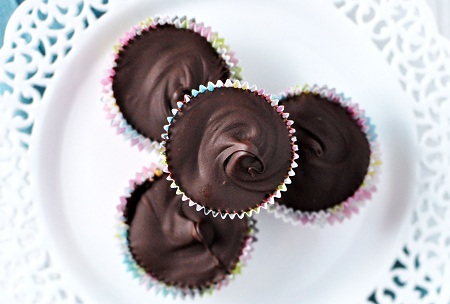 Homemade Peanut Butter Chocolate Cups (or use any nut or seed butter)
Adapted from allyou magazine
Ingredients:
1/2 to 3/4 cup ground graham crackers (or buy already crushed graham cracker crust)
1/2 cup creamy peanut butter, almond butter or sunflower seed butter
2 tablespoons agave nectar (or honey)
8 ounces semisweet chocolate chips
12 mini cupcake papers/cups
Directions:
1. Fill a 12-cup mini-muffin pan with small paper cups. Place the graham crackers in a food processor and pulse until well ground. Transfer a 1/2 cup of the graham crackers to a medium size bowl and combine with peanut butter and agave nectar. If you use a nut or seed butter that is a bit thinner than peanut butter, you may need to use a bit more ground graham cracker. Chill for 10 minutes.
2. Place a layer or plastic wrap or parchment paper on a plate. Using a Tablepsoon, scoop the nut/seed butter mixture and roll it into serving size balls, press them down a bit with a spoon, cover with plastic wrap and chill.
3. Place just under a half of the chocolate chips in a bowl and microwave for 30 seconds on 50% power. Stir and repeat until just melted. Allow the chocolate to cool just a bit.
4. Spoon ~1 tsp. chocolate into each cup and while holding the side of the cup in the tin, gently spread the chocolate over the bottom and halfway up sides of the paper. Chill until hardened, about 30 minutes. Now prepare the remaining chocolate chips as in step 3 and set aside. Press a peanut butter disk into each shell.
5. Spoon ~2 teaspoons of the chocolate over top of the nut/seed butter disk and chill until firm, about 1 hour. Keep refrigerated until ready to serve.
p.s. I am personally grateful that I don't poop butterflies. I would have to keep the windows open so they could get out. That would mean more flies and such in the house. Bzzzzzzz.