Earlier today, I decided to make do some cooking. More cooking than I had done in weeks thanks to the whip-lash however, since I seem to be on the mend and many muscles have relaxed, I felt up to some time in the kitchen.
After making a simple main dish, I decided to try to make adapt a Peanut Butter cups recipe when my rotated vertebrae decided to send me a clear message.
A clear reminder that rest is still needed. A reminder that I need to lie down as often as possible to heal.
The reminder was a muscle spasm/shot of pain through my nerve and vertebrae that sent me whimpering right back to the couch.
Funny how my hubby was willing to wrap up the PB cup recipe.
Speaking of reminders, you only have 14 days left to enter your fabu-lous recipe in the Hood Cook-off!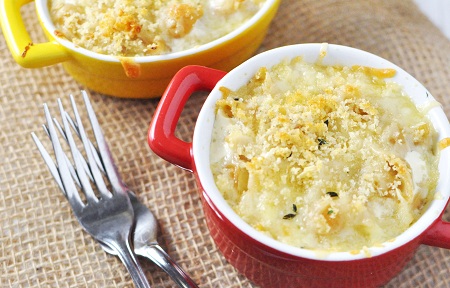 The recipe I am sharing today is an adaptation of the smokey mac & cheese recipe in the Hood Cook-off 2011 cookbook. I lowered the fat a bit by using less butter and replaced the heavy cream with light cream. Plus, the whole grain pasta allows for a bit less guilt.
Imagine the party potential…….ohhhhh Mommy!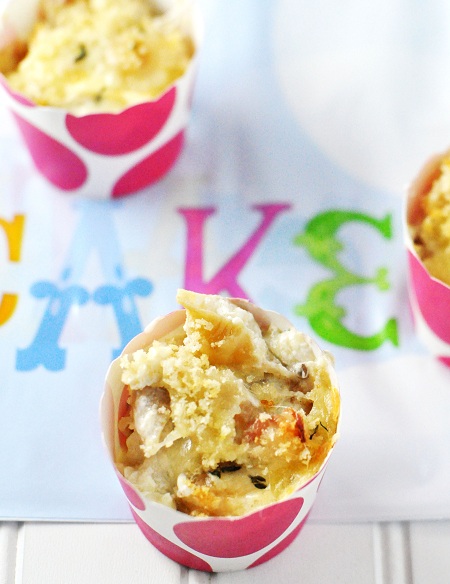 Mac & Cheese with Pancetta and Mushrooms (Yield = 8 generous servings)
adapted from Hood Cook-Off Cookbook 2011
Ingredients:
4 oz. pancetta, diced
2 Tbsp butter, divided
1 large shallot, chopped
2 garlic cloves, pressed
8 oz. sliced baby portabella mushrooms, coarsely chopped
2 tsp fresh thyme, chopped and divided
1 tsp salt, divided
½ tsp pepper, divided
1 lb. medium-sized whole grain shell macaroni
2 cups shredded cheddar cheese, lightly packed
2 cups shredded Gruyère cheese, lightly packed
1 ½ cups Hood® Light Cream
1 cup Hood® Half & Half
1 ½ Tbsp flour
¼ cup grated Parmesan cheese
1 cup panko breadcrumbs
Directions:
1. Preheat oven to 425 degrees. Grease a 9 x 13 glass baking dish or 6 (or more depending on size) individual ramekins. In a large sauté pan, cook pancetta over medium-high heat until browned and crispy. Remove to paper towels to drain; wipe out pan. Melt 1 tablespoon butter in hot pan; add shallot, garlic, mushrooms, 1 teaspoon thyme, ½ teaspoon salt and ¼ teaspoon pepper. Cook, stirring occasionally, until mushrooms are tender and liquid has evaporated. Set aside.
2. Meanwhile, cook macaroni in a large pot of boiling salted water until tender but firm to bite. Drain well and set aside. In a large bowl, toss together cheddar and Gruyère cheeses. Reserve 1 ½ cups of mixture, lightly packed, for topping. Set aside.
3. In a large bowl whisk together light cream, half and half, flour, Parmesan cheese, ½ teaspoon salt and ¼ teaspoon pepper. Stir in shredded cheeses, hot cooked shells and mushroom-pancetta mixture. Toss well to coat; transfer to prepared baking dish or ramekins. Evenly sprinkle reserved cheese over top. Melt 1 tablespoons butter;
stir in breadcrumbs and 1 teaspoon of fresh thyme. Sprinkle evenly over cheese.
4. Bake, uncovered, 15–20 minutes until cheese melts and macaroni and cheese has set. Let stand for 5 minutes before serving.
Preparation: 60 minutes