A Blogging Friend of mine, Jo-Lynne (Musings of a Housewife) and I share a similar food philosophy: real food ingredients, no artificial preservatives, no articificial colors etc. (gluten-free as well for her).
She wrote me a few weeks telling me all about this superior, high quality marinara sauce company Rose Romano's and asked if I wanted to try their Italian green pepper and red pepper sauces. Um, silly question right?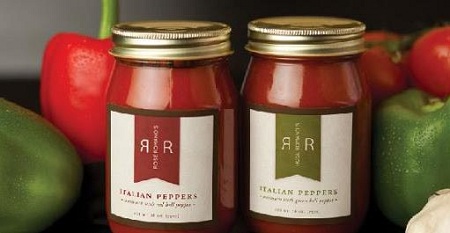 The sauces arrived in a gorgeous set of 4 boxed set and I quickly flipped over a jar of their marinara with green peppers sauce to read the ingredients list: Tomato Puree (Water, Tomato Paste), Fresh Bell Peppers, Fresh Onions, Brown Sugar, Extra Virgin Olive Oil, Fresh Basil, Fresh Garlic, Sea Salt, Fruit Juice for Color, Citric Acid, Spices.
I set to work thinking of what recipes I wanted to make first and after chowing on a homemade pizza, I decided to get a bit more creative. I hope you don't mind….
Stuffed Sweet Potatoes with Beans, Gruyere, Scallions & Marinara Sauce (Yield = 4)
Ingredients:
4 sweet potatoes, cleaned
* oz black beans, rinsed and drained
1 cup Marinara Sauce (Rose Romano's is amazing)
1/2 cup shredded Gruyere cheese
1/3 sliced scallions
Directions:
1. Make a few small slits in each sweet potato and lightly wrap each individually in a moist paper towels. Place them on a plate and microwave on high for 6 minutes. Check to see if they are soft and if not, microwave in 2 minutes increments until ready.
2. Allow the sweet potatoes cool a bit, slice them open, scoop in the marinara sauce and beans. Scatter the cheese and scallions on top and enjoy.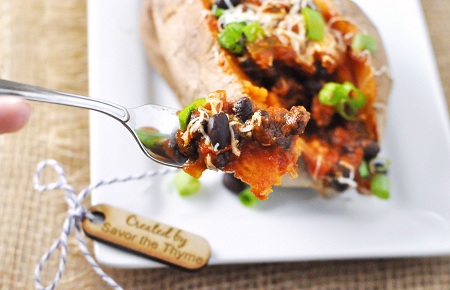 What I love most and why I think they are worth every dang penny is because the sauces can elevate a simple meal. It makes it special and takes it up a notch – you know what I mean?
Plus, there is none of the junk you worry about and a huge time saver. Imagine running in the house to make dinner and all you need to do top a piece of steak or boring ole chicken with one of these toppings. Priceless!
Disclosure: I was sent some sauce and don't want to share it….except in this post. Ciao!