The last few months, especially July, have been a whirlwind for me as I've been traveling by car, plane and ship around the U.S. and Canada. Although seeing the Grand Canyon for the first time was unforgettable on my travels, the most amazing thing that happened to me was becoming the chosen one…as in the winner of the Ziploc® Great American FreshOver™ Sweepstakes!
Being a fan of Ziploc® Brand products, I went to the Ziploc® Brand Facebook Page for recipes and tips, and entered to win the trip for two to New York City to meet Rachael Ray. Never in my wildest dreams did I ever think that I would be picked. In the following months leading up to the meet and greet, I received package after package of Ziploc® Brand products – including bags and containers, BBQ tools and of course, Rachael Ray cookbooks. It's close to a lifetime supply!
Near the end of July, my mom, Elsa, and I were whisked off to New York City for the weekend to meet Rachael Ray. Arriving by plane in the Big Apple, we were driven to the Gansevoort Hotel in the Meatpacking District – the swankiest hotel I have ever stayed at! A gift basket full of snacks and Ziploc® Brand products were waiting for us in our room – perfect for whenever hunger would strike us while out and about in NYC.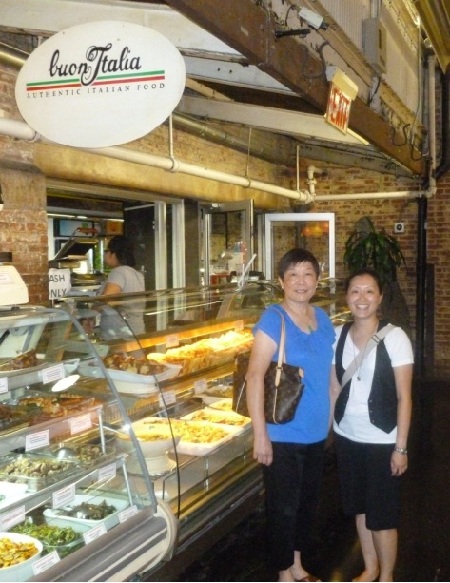 My guest (my mom, Elsa) and I at Buon Italia at Chelsea Market
The next day after our arrival was the big day of finally meeting Rachael. First, we met up with Rachael's manager, John Hall, at Chelsea Market for a tour of all the specialty food stores and shops such as Anthropologie. We stopped to walk around Rachael's absolute favorite Chelsea Market food spot, Buon Italia, an authentic Italian market where she likes to buy cheeses, meats and imported Italian products like pastas in every shape imaginable and unimaginable – all of the foods were not just making me hungry but hungry to cook!
After the tour, the four of us went to the studio to watch Rachael cook dish after dish after dish for episodes of her Cooking Channel show, "Week in a Day." During breaks, Rachael would chat with us, and I swear that she is just as cheerful and friendly as she is on TV! We also met her culinary and production team including Penny, the producer's extremely well-behaved dog. My mom and I even tasted two meals Rachael was cooking for the show, one was a cannelloni dish and the other was grain-based, and they were very yummy! Even though we were stuffed from all the snacking, we decided to have lunch at Pastis close by, but not before snapping a few photos with Rachael on set (see photo at right). I truly enjoyed watching Rachael in action in the kitchen since I am a longtime fan of hers and the behind-the-scenes were incredibly interesting to me as I work in television production.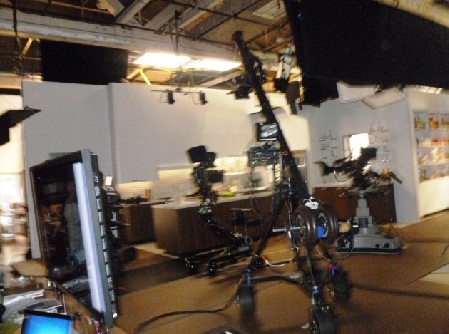 On the set of Rachael's show, "Week in a Day"
After the food-filled day of watching the show taping and meeting Rachael, my mom and I took the opportunity to explore the city and visit family. Overall, the experience that Ziploc® and Rachael Ray put together for me was beyond exciting and I can't thank them enough for the excellent time they showed me in New York City!