Guess what? I am playing hooky. As in, I am not at home doing all my household responsibilities. While you are reading this I am mid-travel but I won't tell you where until later.
But I can tell you aren't paying attention anyway because you are all busy staring drooling on the keyboard as your start at these Bacon, Lettuce & Tomato Baked Potato Chip Nachos right? I knew it!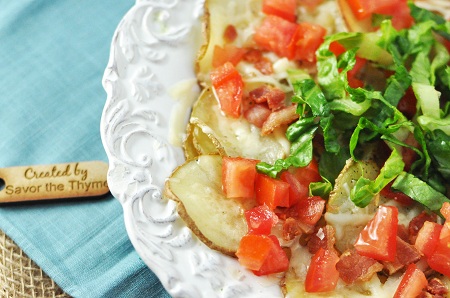 BLT Baked Potato Chip Nachos (serves 4)
4-5 large russet or baking potatoes, sliced 1/8 inch
Olive oil spray
Coarse salt
Black Pepper
1-2 ounces sharp cheddar cheese, shredded
4 slices bacon, precooked and chopped
1 tomato, diced
1/2 small head of romaine lettuce, shredded
Directions:
1. Preheat the oven to 350 degrees F. Wash and dry the potatoes. Lay out two baking sheets with a cooling rack placed in each.
2. Using a mandolin set to a 1/8 inch, slice the potatoes and place on a clean dish towel or paper towels. Spray the potatoes with the olive oil spray and then flip the potato slices into the cooling racks with the non-sprayed side facing up. Spray with the olive oil spray again and then lightly dust with salt and pepper.
3. Bake the potatoes about 10 minutes or until starting to brown. Meanwhile, shred the cheese and chop up the tomato. If you did not previously cook the bacon, do so in the microwave or your preferred method, chop it and set aside.
4. Scatter the cheese and bacon atop the potato slices and bake another 3-4 minutes, just until the cheese is melted. Remove from the oven, top with tomatoes and lettuce.
p.s. Tune in later to find out where I am and what I am doing. All that truly matters is that it involves coffee!!
Here is a hint: