Knowing that Friday through late Saturday was going to be very busy with little time at home, I planned on being at home all day today cleaning and resting.
I was in the family room this morning getting down to the business of cleaning after beginning the first of numerous loads of laundry when our daughter approached me.
'Mom, will you let me choose some earrings for you?' I replied 'sure honey!'.
She choose a pair of fancy chandelier earrings for me and then added a 40-inch station necklace and multiple bangle bracelets.
I reminded her that I am wearing a T-shirt and old jeans because I was cleaning all day and she replied 'Mommy, you can still look special and fancy when you clean'.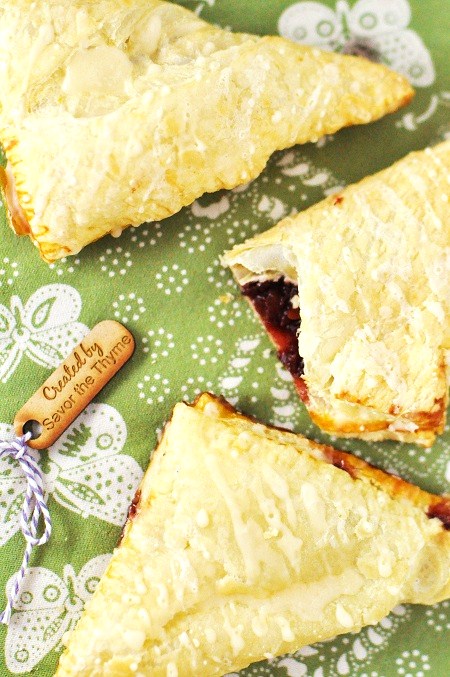 The jewels helped make up for my lack of makeup.
By the way, do yourself a favor and make this in an even quicker manner and simply find high quality (no junky junk) jars of your favorite preserves/jams or go ahead and do it the way I did below.
Cherry & Strawberry Fruit Hand Pies with Apple Cider Glaze (Yield = 8)
Adapted from Everyday Food, September 2012
Ingredients:
2 sheets frozen puff pastry, thawed (you can find great options at Trader Joe's & Whole Foods)
1 cup of chopped strawberries
1 cup of pitted and chopped cherries
1/2 organic brown cane sugar or regular sugar
1/3 cup of unbleached all purpose flour
1 egg, beaten
1 cup confectioner's sugar
a few teaspoons apple cider
Directions:
1. Place the puff pastry sheets out to thaw.
2. Meanwhile, place the strawberries and cherries into a 2 quart pot over medium-high heat and cook for 2-3 minutes, pressing with a potato masher or fork. Reduce the heat to medium, add in the sugar and mix well. Continue to mix every minute and allow to thicken for 5-10 minutes. Pour the 'jam' into a bowl and allow to cool slightly.
3. Onto two baking sheets, place either parchment or a silpat mat. Lightly flour either a large cutting board or hard surface and roll out the puff pastry dough to approximately 1/8 inch thick and then cut it into four square pieces and place four onto each of the baking sheets.
4. Place 1 tablespoon of the cherry-strawberry 'jam' in the middle (don't add more even though you will be tempted). Beat the egg in a small bowl and brush it on all four sides of each square, fold one corner diagonally over the opposite and seal with a fork. Place both baking sheets into the freezer for 30 minutes.
5. Preheat the oven to 375 degrees Fahrenheit. Bake the hand pies for 20 minutes or so until lightly brown. Place on cookie racks and allow to cool completely.
6. To make the glaze add apple cider, one teaspoon at a time, to the confectioner's sugar and mix to a medium thickness consistency. Drizzle over the hand pies using a fork and allow to firm up. Dig in.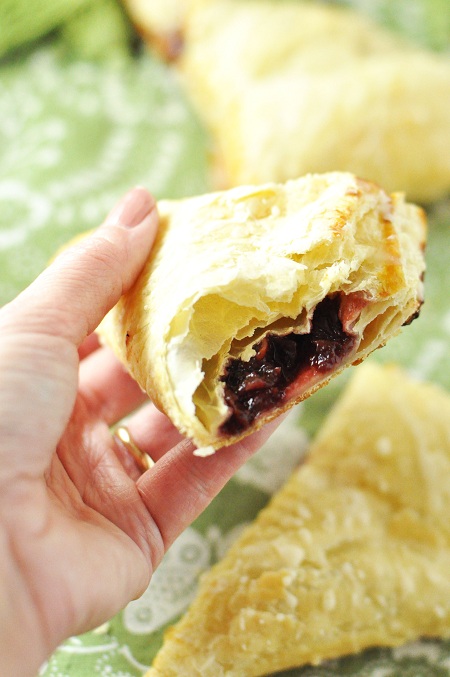 oh sure, all eating and no cleaning. Humpf…..