I heard your back to school calls for help. Your exasperated sighs. The shrieks of 'What am I going to feed the kids between their homework and soccer?!'
Forget fretting, I am here for you. My friend Andrea told me that she calls this meal 'Linner'. You know, the meal that needs to be more than a snack but not a huge meal. It needs to be quick, easy to transport and keep the kids going during soccer, dance or gymnastics.
Personally, I think that this Hard-Boiled Egg Sandwich with Spinach & Sprouts is an amazing option but I know you want more ideas and so I present Potato Gnocchi & Mozzarella.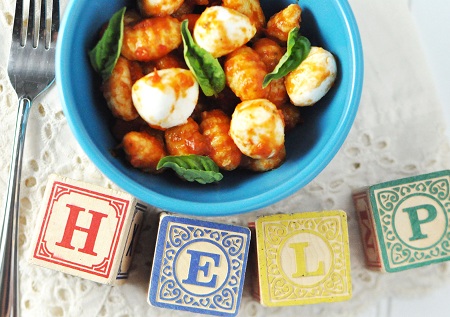 Potato Gnocchi & Mozzarella in Marinara (Yield = 4)
Ingredients:
1 bag of frozen potato gnocchi
8 ounces or so of mozzarella balls or chunks
2 cups or so of your favorite marinara sauce
Fresh basil, torn
Directions:
1. Bring water to boil and cook the potato gnocchi according to the package instructions.
2. Meanwhile, warm up the marinara if you wish and place in four separate bowls/container and add in the mozzarella.
3. Drain the gnocchi and mix with the mozzarella and sauce.
Okay my friends, you may put away the blocks now as I have rescued you.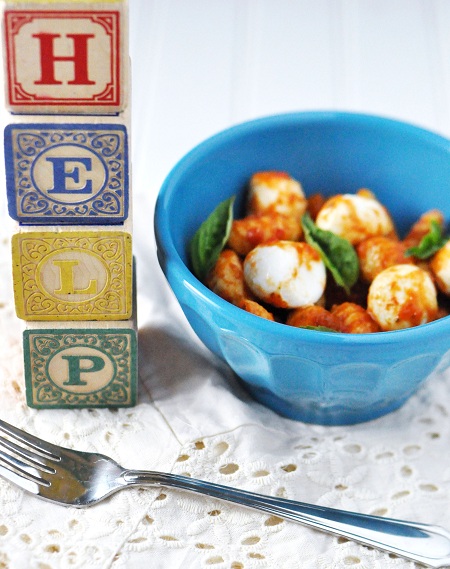 Would you call it Linner, Dinner #1 or Dinner #2?