In this house we are divided 50:50. Half of us our morning people and half of us are not.
The 'half-nots' sit on the couch and stare at Boomerang while the other half makes breakfast.
Hope this recipe makes you wake up and smile.
Love,
Me & the littlest morning person.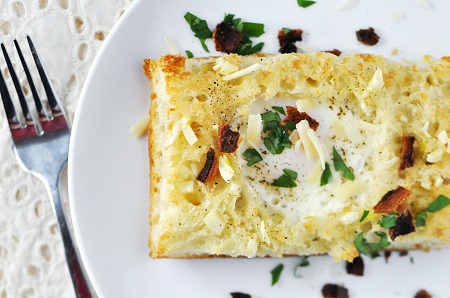 Baked Egg in A Hole Texas Toast Style (Yield = 4)
Adapted from Cooking Light
Ingredients:
2 teaspoons olive oil
4 pieces of thick bread
2 tablespoons unsalted butter
2 cloves of garlic, minced
4 organic eggs
1 tablespoon chopped fresh parsley, optional
2 slices of bacon, cooked and chopped, optional
fresh grated Gruyere cheese
Directions:
1. Preheat the oven, with a baking sheet in it, to 400 degrees Fahrenheit.
2. Using a knife or small biscuit cutter, remove a circle of bread from the center of each slice and set it aside. Heat the oil in a large skillet over medium heat. While the oil is heating, place the butter and garlic in a small dish and melt in the microwave then brush the garlic butter onto the bread.
3. Place the 'holed' bread slices into the skillet and crack the egg into the center of each bread hole.
4. Cook until almost set and them carefully remove each toast piece and place them onto the heated baking sheet. Bake for 2-3 minutes until the eggs are finished setting. Top with cheese, parsley and bacon if you wish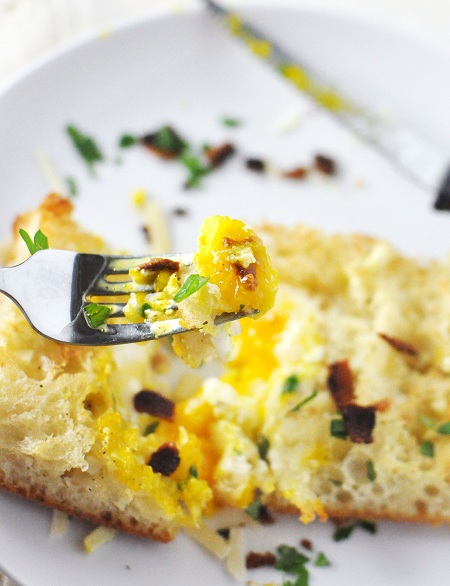 Forget the fork and just use your hands.
Did you know today is National Egg Day? What is your favorite egg dish?