Yup, we are chatting Hurricane Sandy aka FrankenStorm Sandy aka Super Storm Sandy today because this is another recipe I made on Sunday while cleaning out the fridge.
I used up all the bits and pieces that would probably go bad or not seem as appealing while hanging out with kids. These include, some unused butternut squash, 1/2 zucchini, and more.
I was thinking of straining out the green bits but then thought: 1. I am dang tired 2. I think the kids would realize they are too hungry to complain.
Eat up kiddos!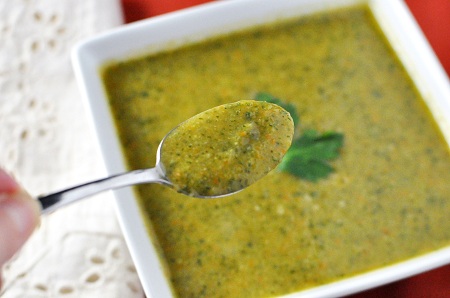 Kitchen Sink Vegan Vegetable Soup (Yield ~ 7-8 cups)
Ingredients:
3 tablespoons olive oil
1/2 onion, roughly chopped
2-3 carrots, roughly chopped
1/3 butternut squash, roughly chopped
1/2 zucchini, roughly chopped
2-3 celery stalks, roughly chopped
2-3 cloves of garlic, roughly chopped
4 cups of low sodium vegetable broth
2 cups of water
1-2 handfuls of baby spinach
2 cups Kale
1 cup 1% milk
Kosher salt & ground black pepper
Directions:
1. Heat the oil over medium heat and toss in the onion, carrots, squash, zucchini and saute for 5-7 minutes until softening.
2. Toss in the celery and garlic and saute for 2-3 minutes. Increase the heat to high and add the broth and water and bring to a boil. Cover, lower the heat to simmer for 20 minutes.
3. Add the baby spinach and kale and simmer for another 5-7 minutes.
4. Remove from heat and allow to cool at least 10 minutes. Add the milk and then puree the soup in a batches using a blender. Season to taste.