You have heard it many times before: you need to keep things fresh in your marriage. Some even say 'spice things up' or 'keep it spicy!'.
Seeing as we just celebrated our 11-year Wedding Anniversary, I decided to spice things up in the kitchen. oh, behave!
We carved pumpkin yesterday so I decided to make some fiery Sriracha roasted pumpkin seeds for my husband. See, spicayyyyyyyy!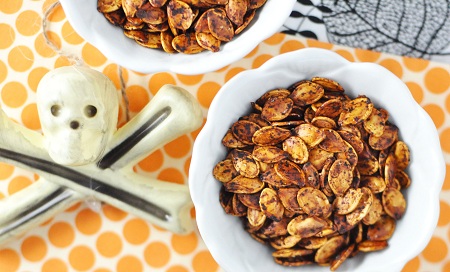 Fiery Sriracha Roasted Pumpkin Seeds (Yield = varies)
Ingredients:
fresh pumpkin seeds rinsed and dried
1 tablespoons olive oil per cup of pumpkin seeds
1 teaspoon sriracha per cup of pumpkin seeds
a few dashes of chili powder , cayenne or paprika
a few pinches of salt
Directions:
1. Prepare your pumpkins seeds by cleaning and drying them.
2. Preheat the over to 350 degrees of Fahrenheit.
3. Whisk together the oil and Sriracha sauce and pour over the pumpkin seeds. Fold until well coated and sprinkle with chili powder , cayenne or paprika and salt.
4. Spread into a single layer on a baking sheet and bake for 35 minutes or until crisp, mixing every 10 minutes.