Not acceptable. Colds at the beginning of October, in this house, are not acceptable.
My husband came down with a cold on Tuesday and then our son was home from school yesterday..
I decide enough is enough so I made a soup that would kick a cold where it hurts (you know what I want to say right?)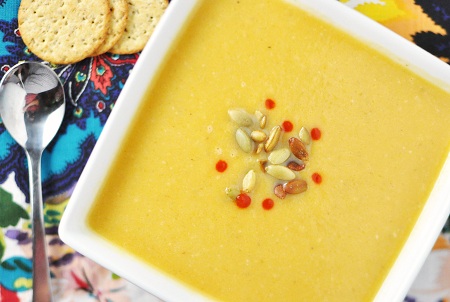 How do I kick a cold you ask? It is simple: toss in enough garlic and sriracha in the soup to knock out any cold bugs.
For my son there was no sriracha but for my husband, I did not hold back.
FYI: My son was back at school today so please begin calling me Dr. Jen.
Garlicky Butternut Squash & Pumpkin Soup Recipe with Sriracha Sauce (Yield = 7 to 8 cups)
Ingredients:
1 tablespoon extra virgin olive oil
1/2 sweet onion, chopped
2 stalks of organic celery, chopped
3 large cloves of garlic, peeled and chopped
1 lb. of peeled and seeded butternut squash, cut into chunks approx. 1/2 inch
1 cup of canned pumpkin puree
4 cups of organic vegetable broth
1/2 cup 1% organic milk
1/2 cup half-n-half
1 tablespoon sriracha sauce*
Sea salt and freshly ground pepper, to taste
Directions:
1. Heat the oil in a large pot over medium heat. Add the onions and celery and saute, stirring frequently, for 4-5 minutes.
2. Turn the heat to low and after a minute or so, add the garlic and stir for 2 minutes. Add the squash and cook for another 3-4 minutes.
3. Turn the heat to high, pour in the vegetable broth, add the pumpkin, stir well and bring to a boil. Reduce the heat to low, over and simmer for 20-25 or until the squash is soft and easily pierced with a fork.
4. Remove from the heat, allow to cool for a few minutes. Add the milk and half and half and puree using either an immersion blender or pour the soup into blender. To use a blender: transfer it carefully in 2 cup batches to the blender, puree and pour into a bowl. Repeat the process until all of the soup has been pureed.
5. Add salt and pepper to taste and serve.
*No worries, if your nasal passages are not plugged up or you are under 18, you can skip the sriracha