I see you want to eat your vegetables now don't you? You picky eater you.
Amazing how Broccoli becomes so interesting and yummy when it is topped with sauteed garlic and bacon eh?
I don't blame you.
In fact, I made this at 10 a.m. and ate it all. No sharing.
Try to take some and I will smack your hands. And don't worry about the bacon shortage, we will only use a few slices.
Back off!
Go make your own.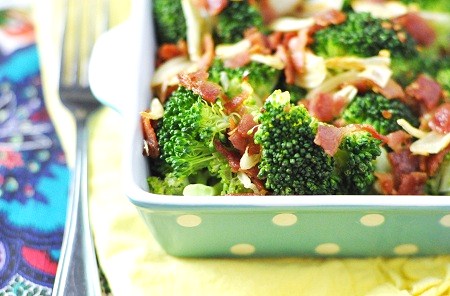 Garlicky Spicy Broccoli with Bacon & Red Pepper Flakes Recipe (Serves 4)
adapted from Sandra Lee's Garlicky Green Beans
Ingredients:
1 pound fresh broccoli
1 tablespoon butter
1 tablespoon extra-virgin olive oil
6 cloves peeled garlic, thinly sliced
4 strips cooked uncured bacon, chopped
1 tablespoon red pepper flakes
Directions:
1. Place 4 strips of bacon on a piece of paper towel on a microwave-safe plate and cover with another piece of paper towel. Microwave on high for 3-4 minutes until cooked but not crispy.
2. Meanwhile, in a 3 quart pot, fill with about an inch of water and insert a steamer basket. Add the broccoli and bring the water to a boil. Cover and steam for about 4 minutes but do not overcook the broccoli.
3. While the broccoli is steaming, remove the bacon and place on a cooling rack or fresh paper towel to cool while you slice up the garlic. Heat the butter and oil over medium to medium-low heat and when melted, add the garlic. Chop the bacon and toss it and the red pepper flakes into the pan. Be sure not to let garlic burn – a light golden brown is perfect.
4. Carefully add the broccoli to the pan and toss to coat.
News alert: Apparently there is no bacon shortage. You may now relax.