Storm Sandy is in full force here in Rhode Island (well, not really as I write this on Sunday afternoon) and I am trying to use up some perishable foods yet make foods would last for a few days or be frozen and then consumed. For this recipe, I used a lonely small sweet potato and the remaining cup of pumpkin puree.
Aren't the dang muffin/cupcake cups the cutest? I was at T.J. Maxx buying some candles and the dang marketers placed a bunch of these babies in the check-out line. Could I resist them? Could you? Heck no!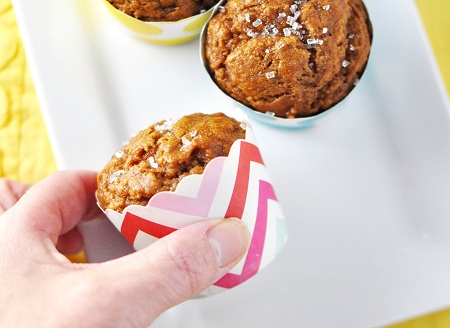 Ingredients:
1 cup whole wheat flour
1 cup unbleached all purpose flour
2 teaspoons cinnamon
1 teaspoon baking soda
1/4 teaspoon baking powder
1/4 salt
1 1/2 cup packed brown sugar
1/4 cup canola oil
1/2 cup applesauce, no sugar added
3 eggs
1/2 teaspoon pure vanilla extract
1 cup pumpkin puree
1 cup peeled and grated sweet potato
Directions:
1. Preheat oven to 375 degrees.
2. Spray muffin tin with baking spray or use cupcake liners.
3. Sift the first six ingredients together in large bowl, combine and set aside.
4. In a separate bowl, whisk together the sugar, oil, applesauce, eggs, vanilla and pumpkin puree until combined.
5. Fold sweet potato into the wet ingredients.
6. Add dry ingredients to wet ingredients and fold to combine.
7. Fill muffin tin or each liner about 3/4 full. This recipe makes about 18 standard sized muffins. Bake for about 25 – 30 minutes (Test doneness by inserting a toothpick and making sure it comes out 'clean').
Finally, a little Halloween looking packaging as that may be as much Halloween-ish type of thing going on around here today!