I hope it is clear by now that eating healthy foods, and fitness are very important to our family. However, kids being kids, they don't always want to listen to or learn from their parents but all children do enjoy having fun and being silly. Combining those in order to teach healthy behaviors is a win-win and is the core concept of 'The OrganWise Guys'.
I was recently introduced to their In The House' kit and loved it! Why you ask? Because 'In The House' is a healthy (and very fun) behavior tracking program that helps families learn about the purpose of their organs AND how to add healthy habits to their daily routines.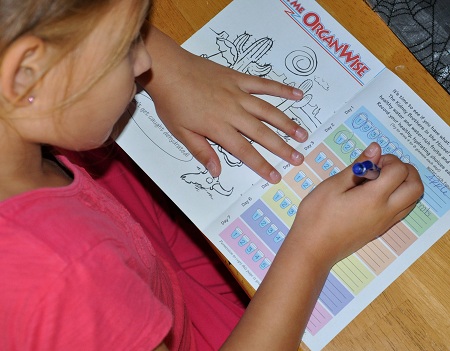 Kids engage (I assume you will as well Mom & Dad) in different OrganWise 'Rules' for seven days, over the course of four weeks, while tracking their progress. At the end of the week, they get to share their progress and await the reward (a plush animal of the organ you were focused on).
More than one child? No worries, the kidneys come as a pair so we split those up and then we did the Choose Low-fat (heart) and Choose exercise (muscle) both in one week so they each got a plush toy the same week. The kids decided to award Dad with the 'Peri-stolic' animal at the end of the high-fiber week and trust me, that brought many giggles to day.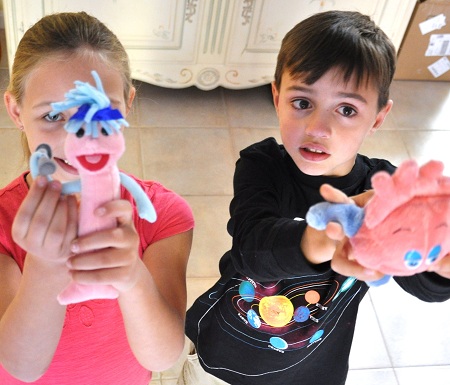 The kit come with five books and you begin with 'Getting Started with In the House!' which helps explain how everything will work. The remaining activity books that are 8 pages in length can be used in any order:
Hardy Heart In the House! – Choose Low-Fat
Peri Stolic In the House! – Choose High-Fiber
The Kidney Brothers In the House! – Choose Water
Madame Muscle In the House! – Choose exercise
Each book also contains a hidden picture activity that the kids loved and resulted in them discussing their favorite foods and activities. The kit also comes in a colorful carrying case with the five plush OrganWise Guys.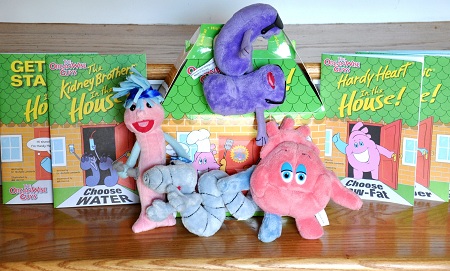 The plush animals come in a kids loved the 'secret' box (looks like a house) and yes, I did catch them sneaking into it one week when we were on a trip. Those naughty creatures found two of the plush OrganWise Guys and that only made them more excited as they knew that it was Day 7 of the week and they were excited to play with the 'kidneys' as you will see in the video below:
Would you like to win your own 'In The House' kit? To enter, comment on this post telling me: What is a favorite 'Family Friendly Healthy Living Tip'?
For additional entries (read carefully):
*RE-PIN my pin to one of your boards & leave a comment with your pin link: http://pinterest.com/pin/5699936999915327/
*Tweet this giveaway (leave the twitter link in a comment): Teach healthy living behaviors to your family while having fun with the @OrganWiseGuys & @savorthethyme http://su.pr/7VTXFR #organwiseguys
*Follow @OrganWiseGuys on Twitter (and come tell me your twitter handle)
All entries must be received by Friday, November 2nd 11:59pm ET. The winner must reside in the U.S., be over 18 years of age and respond within 48 hours upon notification of winning or a new winner will be chosen.
You can also engage with and find our more about The OrganWise Guys both on Facebook & Twitter
Disclosure: I was provided with The OrganWise Guys In The House! Kit to facilitate my review.  The opinions expressed, photographs, and video are my own.