As you know, we celebrated our Anniversary 10 days ago at the Mohegan Sun casino but what you don't know is what my husband gave me as a gift.
It is something I needed badly and something I suspect he really wanted to me to have so I could unclutter our dresser and bathroom counter: A Jewelry Box.
I had been coveting this jewelry box from Red Envelope but when I asked him to show me items that he liked on the site, he suggested that we buy the jewelry box I have been wanting.
The box is crafted from leather and lined in tarnish-resistant faux suede and I knew I had to have it in red. I also love that it included a removable travel case with its own mirrored lid.
Ain't she pretty?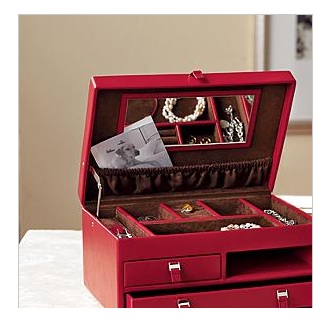 My shopping experience was fun, seamless and easy. Also, I was thrilled when my jewelry box came 4 days sooner that the provided shipping date.
Start your gift shopping now using these discount codes!
Disclosure: I received a discount code that covered a portion of the jewelry box.