Many are aware of the classic Nor'easters that New England gets each year however, the past two years have brought us many surprising weather events including: Hurricane Irene, historic floods, and a freak snowstorm last October.  In fact, just a few weeks ago we lost power again from an ole' fashioned Nor'easter.
Before the storm arrived a few weeks back, I prepared in the standard fashion: plenty of candles, flashlights, water, lighters, matches etc. and everything was fine until we lost power at 5 am and my hubby was wondering if he would be able to find a coffee shop with power so he could use Wi-fi and be able to work. That prompted us to start looking into getting a generator.
So what happens when you lose power to your home due to a severe weather event or emergency? Are you prepared? I am happy to share a bit of research I have done for you on Kohler Generators.
Basically, there are Portable Generators or Standby Generators:
What is a Portable Generator? A portable generator is ideal for temporary, portable power is needed. True to its name, a portable generator can be moved from one location to the next and is designed to provide a limited supply of power. A portable generator runs on gasoline, and all items being powered by the portable generator must be plugged into the unit using properly rated extension cords. Most importantly, a portable generator MUST be kept outside in a properly vented area to avoid carbon monoxide poisoning.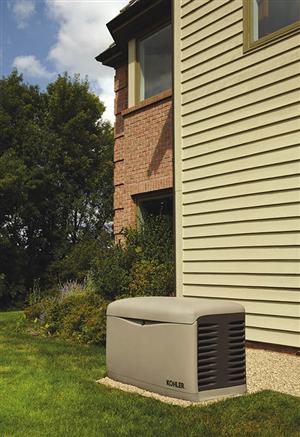 What is a Standby Generator? A standby generator, permanently connects to your home, similar to a central air-conditioning unit. It runs on propane or natural gas and connects directly to existing fuel lines in the home. When there is a loss of power, the generator automatically turns on. so you don't have to be  at home to turn it on. Depending on the size, a standby generator can power an entire home or a few key appliances.
If you're thinking about getting a standby generator, there are a few things you should look for:
A commercial-grade engine that provides clean, consistent power and can handle heavy loads.
An attractive design. The unit will be installed outside your home, so looks might matter to you or your home owner's association.
Corrosion-resistant housing, which is important in areas with salt water.
Quiet operation.
An extended warranty. Look for a standby generator with a minimum five-year warranty.
Obviously, budget is often one deciding factor in which type of generator you choose but if you really are not sure which is best for you, this article may help you decide.
p.s. Because I worry about you (and just about everything in the world), here are some power outage safety tips. Now go get prepared.
Disclosure: FitFluential LLC compensated me for this Campaign. All opinions are my own.