Before hosting Thanksgiving dinner, I, as many of you, went grocery shopping.
I picked up some Udi's Gluten Free items for those on a gluten free diet and the most popular item I brought home was the Chocolate Chia Muffin Tops.
At breakfast time a few days later, I stared at another box of the muffin tops and wondered 'What else could I make with these muffin tops?' and a french toast bread pudding came to mind.
Try it. Love it. Dream of it.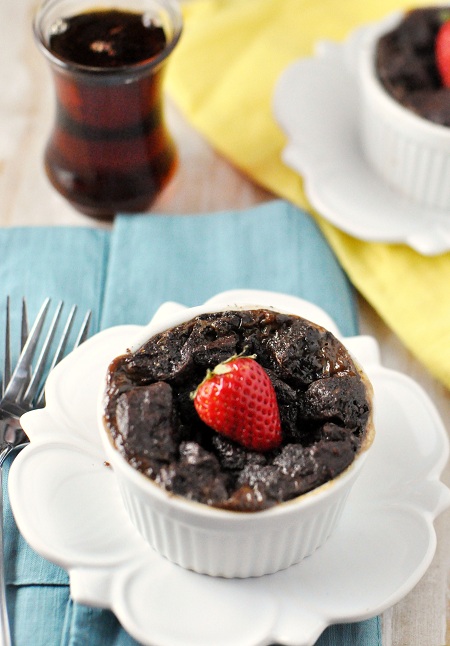 Gluten Free Chocolate Baked French Toast Breakfast Pudding Recipe (Serves 4)
adapted from Simply Gluten Free
Ingredients:
4 Udi's gluten free chocolate chia muffin tops
2 large eggs
1/2 cup half and half ( or 1 cup if you do not have almond milk)
1/2 cup Silk PureAlmond dark chocolate milk
1 teaspoon cinnamon
1/2 teaspoon pure vanilla extract
Directions:
1. Preheat the oven to 350 degrees.
2. Roughly chop the muffin tops into cubes and evenly distribute the pieces into the 4 ramekins (If the ramekins are not non-stick, lightly spray with baking spray.)
3. In a large bowl, whisk the eggs and then mix in the half and half, almond milk, cinnamon and vanilla. Pour over the muffins cubes and allow to absorb for about 15 minutes.
4. Place the ramekins on a rimmed baking sheet and bake for 45 minutes. Let cool slightly and serve with maple syrup on the side.
A few tips for entertaining gluten free:
1. Ask your guests what their favorite foods or product lines are.
2. Better yet: take them shopping with you once they arrive.
3. Keep your utensils, cutting surfaces etc. separate when you prepare food so you avoid any cross-contamination.
4. For snacks, keep plenty of fruits and veggies around as they are easy to grab and naturally gluten free!
5. There are many gluten free recipe sites so use their menu suggestions.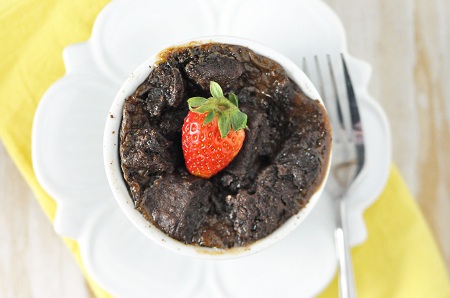 Disclosure: I was sent a few coupons to purchase the muffin tops at no cost.