It is crunch Time my friends but don't panic.
This is an easy, toss together, and stick in the oven (do it you remove the Turkey from the oven and it is resting) and move onto the gravy making.
The recipe was inspired by Giada De Laurentiis' and her 'An Italian's Guide to Thanksgiving'.
Enjoy and Happy Thanksgiving!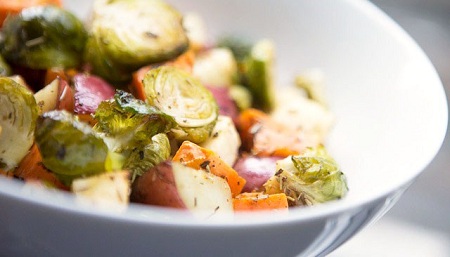 Roasted Potatoes, Cauliflower and Brussel Sprouts (Yield = 6 side dish servings)
Ingredients:
1/4 cup extra-virgin olive oil
1 large sweet potato, chopped into 1-inch thick cubes
3/4 cups Brussels sprouts (about 1/2 pound), halved
1 1/2 cups red potatoes, cut into 1-inch thick cubes
1/2 head cauliflower, florets split in half
1-2 cloves of garlic, roughly chopped
1/4 teaspoon dried rosemary
1/4 teaspoon dried thyme
1/4 teaspoon dried sage
1/4 teaspoon sea salt
1/2 teaspoon freshly ground black pepper
Directions:
1. Preheat oven to 400 degrees F.
2. Spray a baking dish with olive oil spray.
3. Toss all vegetables and seasonings with extra-virgin olive oil and place on baking sheet.
3. Bake for 15 minutes, mix and add more oil if the vegetables seem dry. Bake an additional 20 minutes.