Almonds & Pecans are high in fat but they are high in good fats (and protein). Ask your doctor.
Never mind; taste these first and then tell me if you think they are good for you.
Now I must be honest, these are a bit sticky. I don't know how those canned honey dijon do-dads manage to not be sticky but these are unless you let them rest for a few hours after making them. Then they are not too sticky.
However, do not run your fingers through your hair while eating these.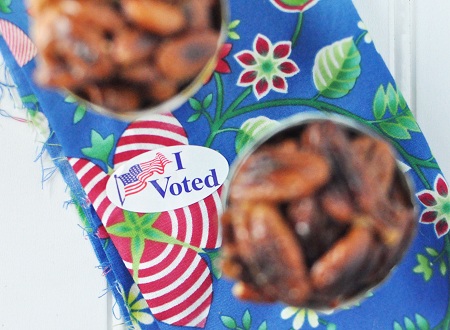 These were a fun and energizing treat after voting. Happy Nutty Election Day!
Roasted Honey Dijon Mustard Almonds & Pecans (Yield = 1.5 cups)
Ingredients:
1 cup shelled pecans
1/2 cup shelled almonds
1/4 cup honey or agave nectar
1/4 cup Dijon mustard
1 teaspoon olive oil
1 teaspoon dried mustard powder, optional
1 teaspoon brown sugar, optional
1/2 teaspoon Kosher/coarse salt, optional
Directions:
1. Preheat the oven to 350 degrees Fahrenheit. Place a piece of foil on a baking sheet and toss nuts on it. Bake for 8-10 minutes.
2. Meanwhile, in a small saute pan over medium-low heat, combine the honey, mustard and olive oil and mix constantly for 5 minutes. Set aside.
3. Place the nuts in a large bowl, allow to cool for 5 minutes and then drizzle the honey mixture on top and toss.
4. Combine the mustard powder, sugar and salt in a small bowl, mix and toss with nuts. Allow the nuts to cool, dry, rest for a few hours to decrease stickiness.