Wow, I tried and tried to shorten that title but couldn't.
I could have also included cranberries, parsley, savory, spicy and sweet.  See how hard it was hard to trim the title?
Not only could I not shorten the title, but I could not decide my favorite way to present these so I made them both in muffin cups and a jumbo muffin pan.
Note the muffin cups that say 'cupcakes'. When I asked the kids to taste-test they were all like 'Those are not cupcakes Mom!' and 'Dad, Mom's cold medicine made her crazy cause she is putting stuffing in cupcake things'.
Yes, you could place this stuffing in the bird but it will never look this pretty when it comes out.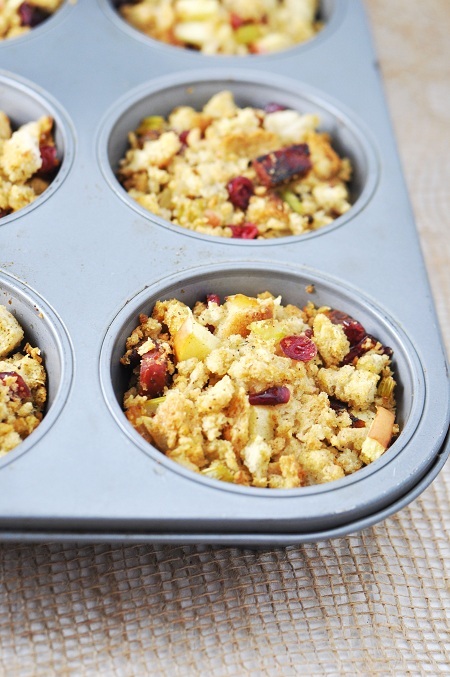 Semi-Homemade Portuguese Chorizo Sausage & Apple Stuffing Muffin Cups (Yield = 8 servings)
Ingredients:
10 oz. Chorizo sausage meat, casing removed and chopped
2 cups finely chopped sweet onion
1 1/2 cups celery stalk, diced
1 10 oz. package of Arrowhead Mills Organic Savory Herb Stuffing (can also choose a gluten-free or other favorite)
1 3/4 Low Sodium Chicken Broth
1/3 cup flat leaf parsley, roughly chopped
1/2 cup dried cranberries (unsweetened if you can find it)
1 apple, chopped
2 pinches coarse salt, optional
A few pinches of freshly ground black pepper, optional
Directions
1. Preheat oven to 350° degrees Fahrenheit.
2. Heat a large non-stick skillet over a medium high heat. Add the sausage and cook, stirring every minute of so, until browned. Lower the heat to medium and add the onions and celery, cover and cook until tender, about 5 minutes (If need be, add a teaspoon of olive oil).
3. Meanwhile, place the herb stuffing, broth, parsley, cranberries and apple in a large bowl and mix well.
4. Transfer the sausage mixture to the bowl, stir well and season with salt and pepper; add a little more broth if stuffing is too dry for you but I found 1 3/4 cups to be perfect.
5. Transfer stuffing to prepared baking dish (or vessel of choice or stuff into Turkey) and bake for 25- 40 minutes depending on vessel (muffin tin 25 minutes for jumbo size, 20 minutes for muffin cups or small muffin tin or 40 minutes if a 8×12 dish).