Recall back when I shared a photo of an drop-dead awesome level of sandwich that I had here in town?
I knew it would be a perfect out-of-the-box leftover Thanksgiving turkey sandwich because it has roasted sweet potatoes and apple cider gravy in it.
Since I wanted to cut down a bit on the richness factor, I skipped their bread of choice, croissant, and went for a toasted onion roll.
You will not grow tired of turkey if you eat this sandwich a few days in a row.
Gobble, Gobble.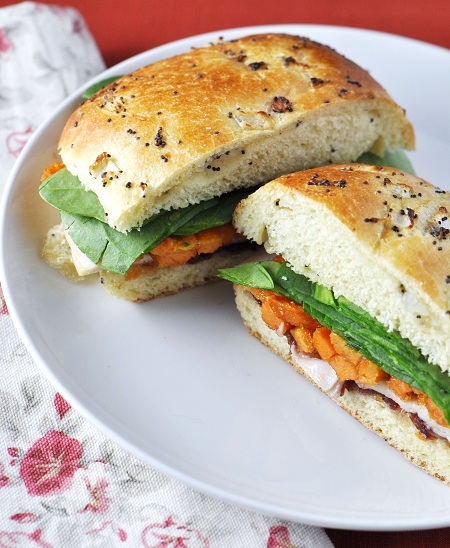 Turkey, Cranberry Relish, Sweet Potato & Gravy Sandwich (Yield = 1)
Ingredients:
A fresh roll or 2 slices of bread
A few pieces of Turkey
A tablespoon of cranberry relish or sauce
A few pieces of roasted sweet potatoes or any leftover vegetables
A handful of baby spinach, arugula or any lettuce
A tablespoon of
apple cider gravy
Directions:
Assemble sandwich and dig in! Heck, toss some stuffing in there as well!