Ain't No Stoppin Us Now….We're on the move!
Ain't No Stoppin Us Now….We've got the groove!
That's right folks, many of you are already getting ready to pack up and start traveling for the Christmas so I thought I would share another super fast homemade gift idea.
I pinky promise that all you need to do it pick up the ingredients, toss them in your food processor or mini-chopper and place the resulting pesto into a nice container.
The super sweet part is that this pesto tastes different than the run of the mill version so it will make pesto lovers from the former haters.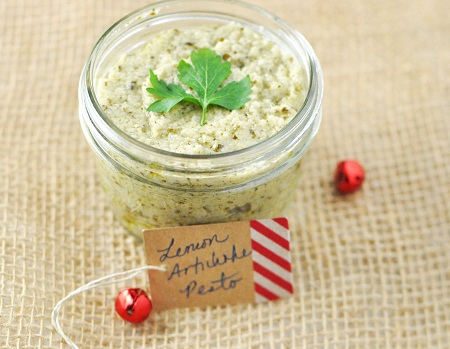 Lemon Artichoke Pesto (Yield = 1 cup)
Ingredients:
1 cup canned artichoke heart, drained and quartered
3/4 cup olive oil
1/2 cup fresh parsley
2 large cloves of garlic, chopped
1 tablespoon lemon juice
1 teaspoon grated fresh lemon rind
1/8 teaspoon salt
1/8 teaspoon pepper, freshly ground
Directions:
Toss all ingredients into the food processor or mini-chopper and pulse until blended.
Consider using this pesto as a spread on pizza, chicken, pasta and more!