In the past month, I have shared a bit about the Twisted Vine and have mentioned the shrimp with pineapple dish.
After eating there at the Hurricane Sandy fundraiser, I decided to make my own version of the dish for us to eat at home.
Isn't this a brilliant way to get the kids to try new foods at home?
If they have enjoyed something at a restaurant and been been a bit adventurous, then tell them you will try to recreate it at home. Encourage them to join in too!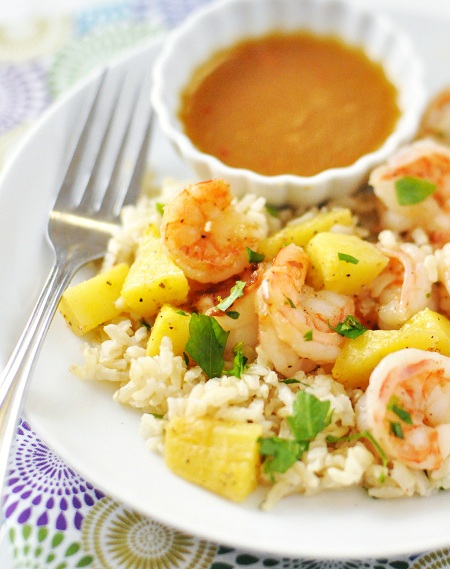 Asian Ginger Shrimp & Pineapple with Cilantro Lime Rice (Yield = 4)
Ingredients:
1/2 pound 31-40 shrimp; thawed, deshelled and deveined
1/3 cup of Bolthouse Asian Ginger Dressing
1 teaspoon olive oil
1 cup fresh pineapple, cubed
2 cups cooked rice
2 tablespoons fresh cilantro, minced
1 teaspoon lime juice
Directions:
1. Place the shrimp and ginger dressing in a bowl or Ziploc bag and marinade for a few minutes. Meanwhile begin cooking the rice per package instructions.
2. Heat the olive oil in a nonstick pan and toss in the shrimp and pineapple. Discard the marinade. Cook for about 2-3 minutes and then flip the shrimp and pineapple over and cook for an additional 2-3 minutes.
3. Mix the cooked rice with the lime juice ad cilantro. Divide into 4 bowls and top with shrimp and pineapple evenly.