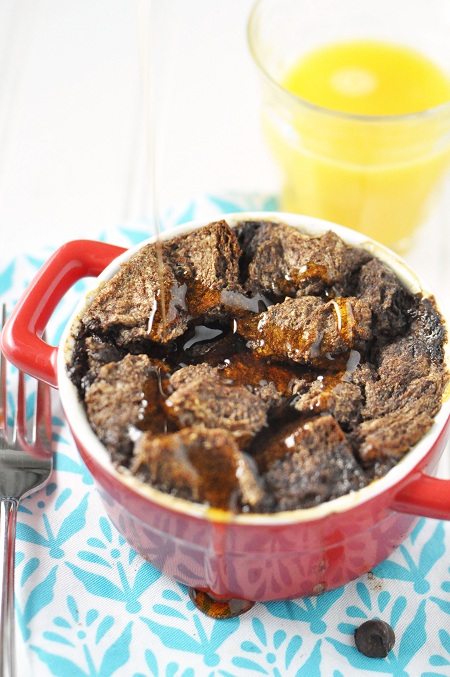 Dark Chocolate does have confirmed nutritional benefits you know. Those benefits are in the form of 'Antioxidants'.
No, I am not saying that dark chocolate is a health food but I am saying that I know you love & crave chocolate.
I also know you get bored with your standard breakfast and that on cold weather weekends, we all want something warm and filling. However, that does not mean that you want something that is super heavy.
In addition, since I am all about getting the kids to try different foods, this recipe is a fun way to introduce the family to Almond Milk my friends.
Now you need baked french toast don't you?
Dark Chocolate Cinnamon Roll French Toast Bread Pudding  (Yield = 6 Servings)
Ingredients:
2 large eggs
3 cups Silk PureAlmond Dark Chocolate Milk
3 Tablespoons brown sugar
2 Tablespoons ground cinnamon
1 tsp pure vanilla extract
8 oz. of Brioche or Challah Bread (about 8 ½ inch slices), chopped into large pieces
Pinch of salt
8×12 non-stick casserole dish or ramekins
Directions:
1. Preheat oven to 375 degrees Fahrenheit.
2. In a large bowl, beat eggs and then add the almond milk, brown sugar, cinnamon, vanilla extract, salt and whisk well.
3. Cut the bread into bite-sized pieces and place them in an 8 x 8 non-stick casserole dish. Pour the custard mixture slowly over the bread, ensuring you get the mixture between all the pieces of bread.
4. Cover with plastic wrap and soak for 30 minutes in the refrigerator.
5. Bake 35-40 minutes, until custard is set and serve warm.